Course details
Explore two key artists' work, Turner and Claude Lorrain, unlock the mystery of tone and colour in watercolour. Fire up your creativity with these one hour webinars, designed to inspire you to get making and investigating at home delivered by artist Hilary Jean Gibson.
This is a recording of the live sessions and is available to view as many times as you like until the link expires on the date shown. At your leisure watch, pause, rewind and paint along with Hilary.
You may also be interested in the recordings of the Studio Practice sessions which follow on from the webinars.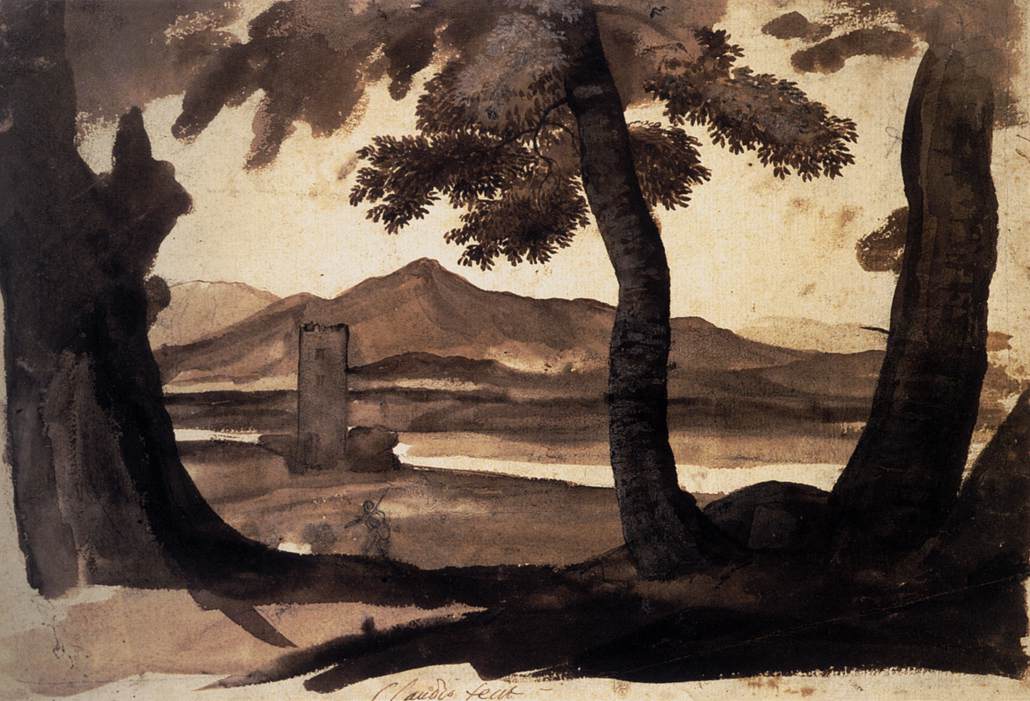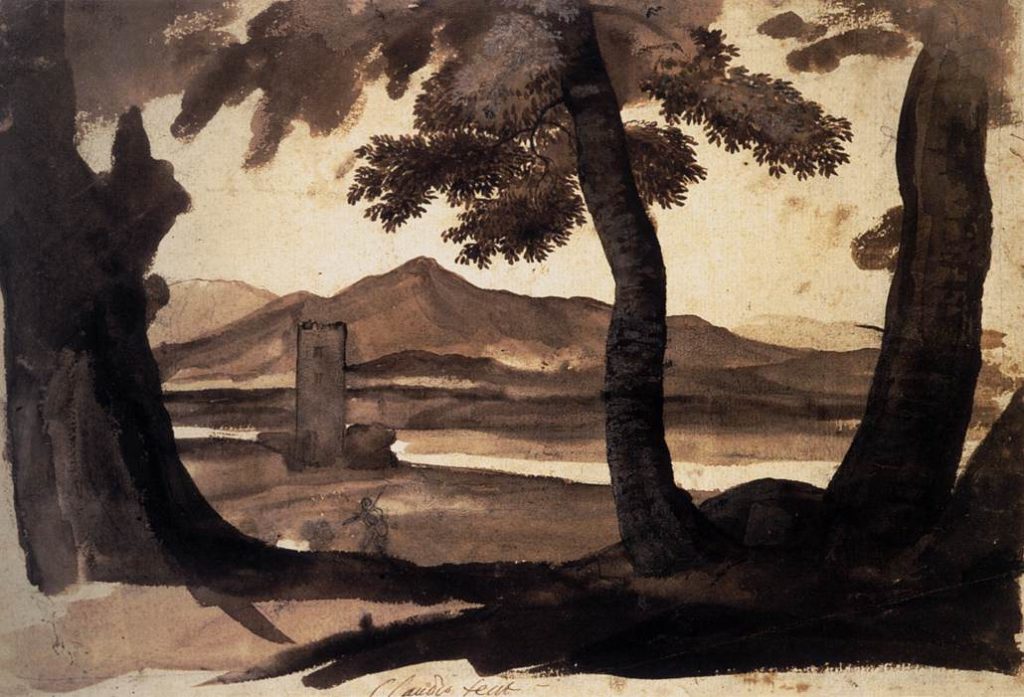 Sessions
Each session starts with a presentation slide show, sometimes this might be illustrated further with a demo. There follows a few questions from the audience and then a task set for you to do at home.
Session 1, expires 18th October
Monochrome and Tone with Claude Lorrain
Explore the work of Claude Lorrain and a host of other watercolourists. We will look at how these artists experienced the Grand Tour and the Picturesque and how their approach continues to influence artists today working en plein air. Hilary Jean Gibson introduces us to the Claude Mirror and explains how it enables us to see the tonal range and helps to simplify and break down a scene into monochromatic shapes. An ideal tool for tackling landscape. You will learn how to make one yourself as an aid to understanding the essentials of tone and monochrome in watercolour but equally useful for other painting mediums.
Session 2, expires 25th October
Turner, Colour Harmony and Colour Beginnings
Learn how the Claudian classical composition inspired J.M.W. Turner and how his commission by the Cooke Brothers led to his tour of the South West. Discover how Goethe's Colour theory influenced Turner's work and palette and how Turner's palette and his use of Colour Harmony and Colour Beginnings can inspire us today.
We will see how Turner's understanding of engraving affected his understanding of tone and how his interest in contre jour had a huge impact on his painting methods and his understanding of light and shadow. Contre-jour (French for "against daylight") is a technique used in photography and painting in which the camera or viewer points directly toward a source of light. In painting this approach encourages us to hide details, create stronger contrast between light and dark with silhouettes that emphasise lines and shapes.
What will I learn?

How to use techniques and tools designed to simplify a scene so you can better understand your use of tone.
How to learn from masters of watercolour like Turner to build your confidence in approaching colour.
How the masters pioneered working en plein air and how we can borrow some of their techniques to help us paint successfully out in the landscape.

Who would this course suit?
Anyone with an interest in art, not just painters. Great for those who would like to get more out of their visits to galleries.
FAQs
Online Broadcast
How can I get help in choosing a course?
Our friendly expert staff are always happy to discuss your needs and our courses in more detail to help you with your decision. Please call us on 01736 797180
Do I need a webcam/any equipment.
For our webinar sessions which are broadcast on the internet and no webcam or microphone is needed as you just need to be able to see/hear hosts and you can communicate using the chat function. You can watch using a PC, Smart TV or tablet. A phone isn't ideal as you will struggle to see enough unless you can miracast to a screen or smart TV.
For the longer online courses on Zoom you will need a laptop or tablet with audio and camera enabled so you can have a screen near where you are working. If you have a PC without camera or speakers, you can purchase a plug and play webcam for approx £25 which connects to a usb port. You will also need reasonable broadband connection and speed.
All the art materials and equipment needed to participate in the course will be listed in full on the online learning platform, for live webinars this will be a minimum of two weeks before the session starts.
I have registered for the webinar but I can't find my joining link
You can access all the resources and joining link for your webinar via our online learning platform. You will need to have set up an account on our online learning platform in advance. You can do this during the checkout process when purchasing your webinar. If you are having trouble accessing your online account, please contact info@schoolofpainting.co.uk. You can use a PC or tablet or even cast from your phone to watch on your Smart TV.
I paid for the session but missed it, how can I watch?
Currently all our online sessions are recorded and you can access the recording on our online learning platform until it expires. Usually 60 days for a webinar, 90 – 180 days for multipart webinars or online courses.
Studio Courses
How can I get help in choosing a course?
Our friendly expert staff are always happy to discuss your needs and our courses in more detail to help you with your decision. Please call us on 01736 797180
How do I get my work home?
Tutors have special techniques for transporting oil paintings and the school has plastic folders available in our shop for £3.50 or do bring a portfolio.
For international students we are happy to arrange transportation of your work back home.
What do I need to bring?
Absolutely nothing! All materials and aprons are provided although some people do like to bring their own set of brushes.
What do I do for lunch?
Courses allow an hour's break for lunch and there are numerous places nearby or you are welcome to bring a packed lunch into the studio.
What times do courses run?
Most of our courses start at 10am and end at 4.30pm on the first day. Subsequent days we start at 9.30am ending at 4pm.
Weekend Courses run 10am – 4pm on the first day but the final day starts at 9.30 and ends at 3.30 with a short lunch break to enable people to get home that evening.
Do you have to be experienced to come to the School?
The School is a very friendly and welcoming place for all ages and experience. Our drop-in life classes and August half-day workshops are ideal for those wanting to have a go for the first time. Most of our longer courses are also fine for novices.
If any of the courses do need a bit of experience we flag this up in the brochure and on the website.
Booking a Course
Can I pay by cheque?
Please get in touch by phone and we can hold your place for a few days whilst you post your cheque (made payable to: St Ives School of Painting) to us at St Ives School of Painting, Porthmeor Studios. St Ives TR26 1NG
How can I reserve a place?
We will hold a provisional reservation for 24 hours if you give us a call whilst you find accommodation. Otherwise please book online or by telephone 01736 797180.
You can reserve a place with a £100 deposit; balance is due 12 weeks before course start date.
About St Ives
Where do I park?
The nearest long stay public car parks are the Island and Barnoon both 5 minute walk away. In the peak summer months it may be easier to park at the big top car park by the leisure centre and walk down into town. If you don't fancy the walk up the hill at the end of the day there is a shuttle bus which runs from outside the cinema.
How do I get there?
Public Transport: If you are coming from further afield the main train line runs into St Erth which is a 15 min taxi ride away or you can take the St Ives Bay Line which runs approx. every 30 minutes. The School is a 10 minute walk from St Ives station.
Driving: M5 will take you to Exeter where we recommend that you take the A30 across Bodmin Moor and into Cornwall. After passing Hayle, leave the A30 at St Erth roundabout for St Ives. Turn right at the second roundabout. This road will take you through Lelant and Carbis Bay into St Ives.
Where can I stay?
St Ives has a huge selection of hotels, guest houses and self catering accommodation to choose from. Please browse the art holidays St Ives section on our website and give us a call if you would like any help.