Life Drawing
Drawing / Figure
| | | | |
| --- | --- | --- | --- |
| Thu 2 Jul | 19:00-21:00 | Steve Dove | Book |
| Sat 4 Jul | 10-12:30 | Gary Long | Book |
| Sat 4 Jul | 13:30-16:00 | Gary Long | Book |
| Thu 9 Jul | 19:00-21:00 | Steve Dove | Book |
| Sat 11 Jul | 10-12:30 | Tom Rickman | Book |
| Sat 11 Jul | 13:30-16:00 | Tom Rickman | Book |
| Thu 16 Jul | 19:00-21:00 | Steve Dove | Book |
| Sat 18 Jul | 10-12:30 | Ilker Cinarel | Book |
| Sat 18 Jul | 13:30-16:00 | Ilker Cinarel | Book |
| Thu 23 Jul | 19:00-21:00 | Steve Dove | Book |
| Sat 25 Jul | 10-12:30 | Liz Luckwell | Book |
| Sat 25 Jul | 13:30-16:00 | Liz Luckwell | Book |
| Thu 30 Jul | 19:00-21:00 | Steve Dove | Book |
| Sat 1 Aug | 10-12:30 | | Book |
| Sat 1 Aug | 13:30-16:00 | | Book |
| Thu 6 Aug | 19:00-21:00 | Steve Dove | Book |
| Sat 8 Aug | 10-12:30 | Ilker Cinarel | Book |
| Sat 8 Aug | 13:30-16:00 | Ilker Cinarel | Book |
| Thu 13 Aug | 19:00-21:00 | Steve Dove | Book |
| Sat 15 Aug | 10-12:30 | Tom Rickman | Book |
| Sat 15 Aug | 13:30-16:00 | Tom Rickman | Book |
| Thu 20 Aug | 19:00-21:00 | Steve Dove | Book |
| Sat 22 Aug | 10-12:30 | Marion Taylor | Book |
| Sat 22 Aug | 13:30-16:00 | Marion Taylor | Book |
| Thu 27 Aug | 19:00-21:00 | Steve Dove | Book |
| Sat 29 Aug | 10-12:30 | Hilary Jean Gibson | Book |
| Sat 29 Aug | 13:30-16:00 | Hilary Jean Gibson | Book |
| Thu 3 Sep | 19:00-21:00 | Steve Dove | Book |
| Sat 5 Sep | 10-12:30 | Ashley Hold | Book |
| Sat 5 Sep | 13:30-16:00 | Ashley Hold | Book |
| Thu 10 Sep | 19:00-21:00 | Steve Dove | Book |
| Sat 12 Sep | 10-12:30 | Gary Long | Book |
| Sat 12 Sep | 13:30-16:00 | Gary Long | Book |
| Thu 17 Sep | 19:00-21:00 | Steve Dove | Book |
| Sat 19 Sep | 10-12:30 | Greg Humphries | Book |
| Sat 19 Sep | 13:30-16:00 | Greg Humphries | Book |
| Thu 24 Sep | 19:00-21:00 | Steve Dove | Book |
| Sat 26 Sep | 10-12:30 | Ilker Cinarel | Book |
| Sat 26 Sep | 13:30-16:00 | Ilker Cinarel | Book |
Course details
PLEASE NOTE: We are hoping to start running life drawing again in July but we expect we will need to preserve social distancing measures. Therefore we will be capping numbers at 10 and only run sessions in our largest studio. This means we have needed to increase the price to £30 (£15 members) to cover the cost of the tutor and model. You will however benefit from more contact time with the tutor.
Drawing from the figure is a classic, traditional skill and these tutored life drawing classes are ideal for those wanting to learn and improve, build a portfolio or for beginners who would like to just have a go.
Don't worry if you haven't got your own drawing materials. The studio has a good range of charcoal and pencils to borrow and a small charge is made for paper in various sizes.
If space allows Saturday afternoon sessions can be used for painting. Please bring in your own painting materials and equipment for this and only use low odour solvents.
Sessions run on Thursday evenings and all day Saturday. Different tutors bring their own style of teaching and we have both male and female models.
We want to keep Thursday evenings and Saturday mornings free from solvents so please keep to waterbased materials and drawing in these sessions.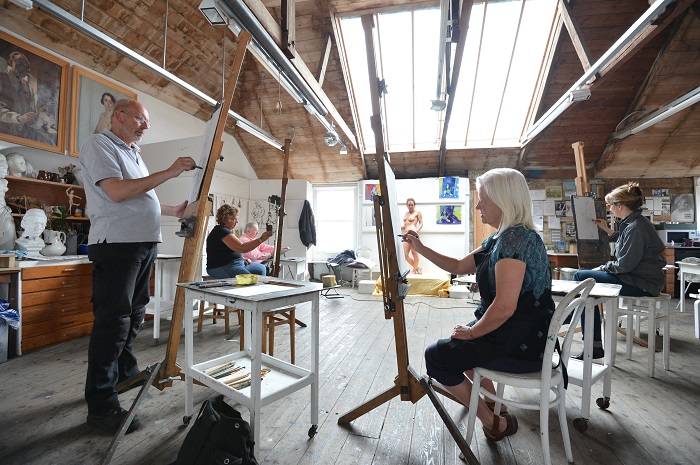 Once a month Saturday sessions are held in the smaller Roy Ray studio with space for just 10 people. On these occasions please only use drawing materials due to the limitations on the space. 1 July – 1 Oct we will not be running sessions in our smaller studio so we can preserve social distancing measures.
Choose your Session
Thursday Evening
19:00 – 21:00
Working with short poses from the nude life model evening life drawing sessions in Porthmeor Studios are led by the highly experienced artist Steve Dove.
Beginners are very welcome.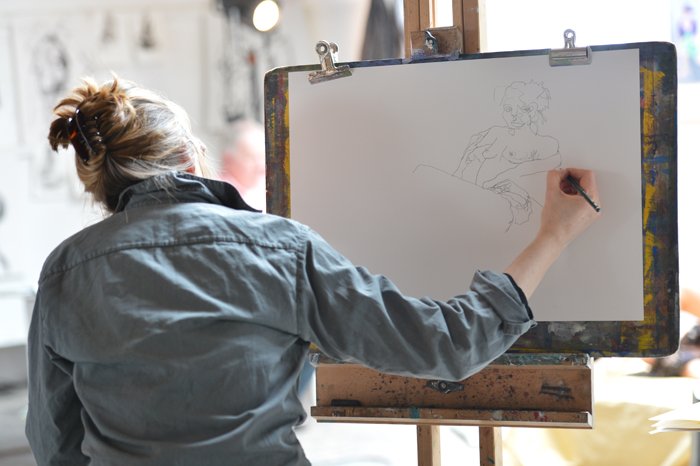 Saturday Morning
10 – 12.30
These are taught by our team of specialist tutors each with a different approach and focus. You can book just a morning or stay for the day
Beginners are very welcome.

Please note
No photographs or filming in the life drawing class.
16-18 year old's welcome if they are accompanied by an adult (parent/carer). The parent/carer will be required to enrol onto the class and give consent
No under 16s. We put these guidelines in place for the safety, comfort and enjoyment of all our students.
Membership
Members benefit from half price life drawing sessions and annual membership costs just £30.
You can join for just one year or purchase an annual subscription.
Please note members' benefits are per individual and not transferable.