Life Drawing
Drawing / Figure
| | | | |
| --- | --- | --- | --- |
| Thu 18 Aug | 18:30-20:30 | Steve Dove | Book |
| Sat 20 Aug | 10:30-13:00 | Hilary Jean Gibson | Book |
| Thu 25 Aug | 18:30-20:30 | Steve Dove | Book |
| Sat 27 Aug | 10:30-13:00 | Marion Taylor | Book |
| Thu 1 Sep | 18:30-20:30 | Steve Dove | Book |
| Sat 3 Sep | 10:30-13:00 | Hilary Jean Gibson | Book |
| Thu 8 Sep | 18:30-20:30 | Steve Dove | Book |
| Sat 10 Sep | 10:30-13:00 | Liz Luckwell | Book |
| Thu 15 Sep | 18:30-20:30 | Steve Dove | Book |
| Sat 17 Sep | 10:30-13:00 | | Book |
| Thu 22 Sep | 18:30-20:30 | Steve Dove | Book |
| Sat 24 Sep | 10:30-13:00 | | Book |
| Thu 29 Sep | 18:30-20:30 | Steve Dove | Book |
| Sat 1 Oct | 10:30-13:00 | | Book |
| Thu 6 Oct | 18:30-20:30 | Steve Dove | Book |
| Sat 8 Oct | 10:30-13:00 | | Book |
| Thu 13 Oct | 18:30-20:30 | Steve Dove | Book |
| Sat 15 Oct | 10:30-13:00 | | Book |
| Thu 20 Oct | 18:30-20:30 | Steve Dove | Book |
| Sat 22 Oct | 10:30-13:00 | | Book |
| Thu 27 Oct | 18:30-20:30 | Steve Dove | Book |
| Sat 29 Oct | 10:30-13:00 | | Book |
| Thu 3 Nov | 18:30-20:30 | Steve Dove | Book |
| Sat 5 Nov | 10:30-13:00 | | Book |
| Thu 10 Nov | 18:30-20:30 | Steve Dove | Book |
| Sat 12 Nov | 10:30-13:00 | | Book |
| Thu 17 Nov | 18:30-20:30 | Steve Dove | Book |
| Sat 19 Nov | 10:30-13:00 | | Book |
| Thu 24 Nov | 18:30-20:30 | Steve Dove | Book |
| Sat 26 Nov | 10:30-13:00 | | Book |
| Thu 1 Dec | 18:30-20:30 | Steve Dove | Book |
| Sat 3 Dec | 10:30-13:00 | | Book |
| Thu 8 Dec | 18:30-20:30 | Steve Dove | Book |
| Sat 10 Dec | 10:30-13:00 | | Book |
| Thu 15 Dec | 18:30-20:30 | Steve Dove | Book |
Course details
Drawing from the figure is a classic, traditional skill and these life drawing sessions are ideal for those wanting to learn and improve, build a portfolio or for beginners who would like to just have a go. With an artist tutor on hand to offer support and instruction it is ideal for those who would like feedback and guidance.
Beginners are very welcome, do let the tutor know so they can give you extra support
The sessions also give professional artists who simply want the opportunity to work from a model a regular space to develop their practice.
Steve Dove will run our regular Thursday evening sessions and a team of different tutors will bring their own style to our Saturday classes.
The model will be nude, we use both male and female models.
Please remember no under 16's but 16-18 year olds welcome if accompanied.
---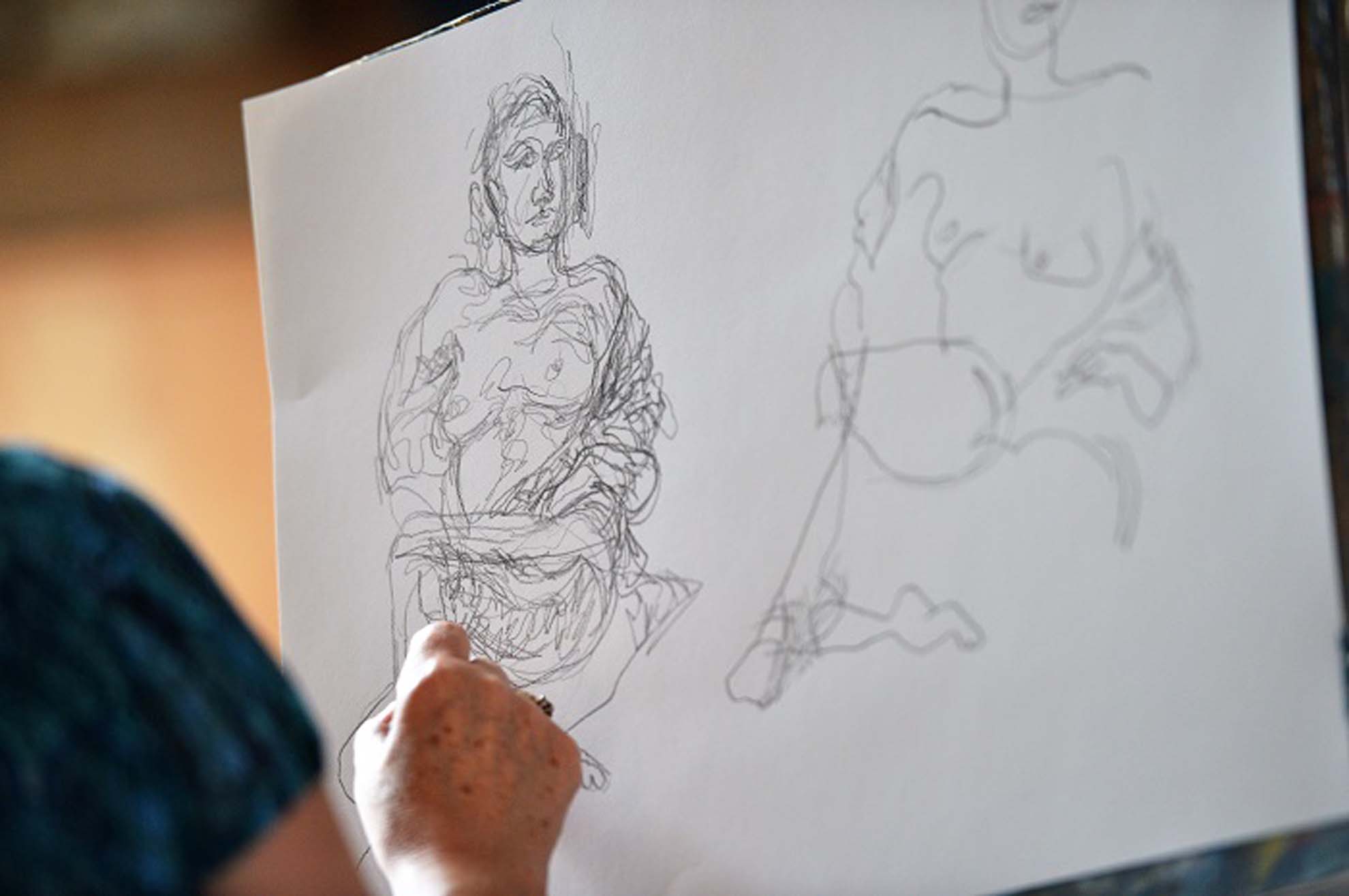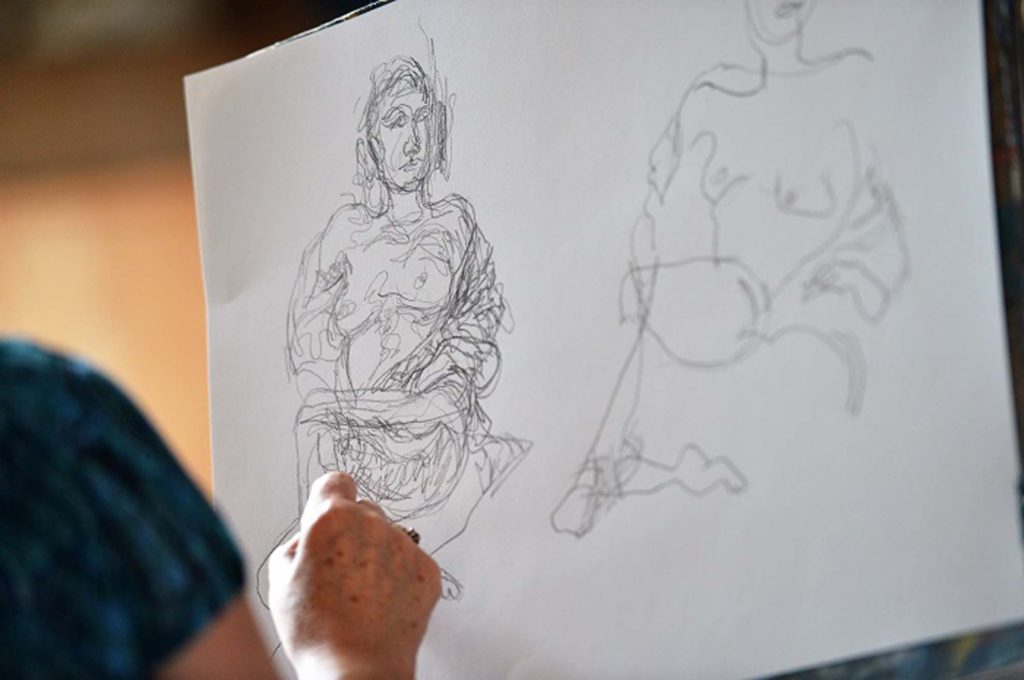 Sessions are held in our alternative studio space, a large Victorian hall at the other end of Porthmeor beach.
WHAT TO BRING
A supply of materials and paper will be available to borrow.
Choose your Session
Saturday Morning
10:30 – 13:00
These are taught by our team of specialist tutors each with a different approach and focus.
Please note
No photographs or filming in the life drawing class.
16-18 year old's welcome if they are accompanied by an adult (parent/carer). The parent/carer will be required to enrol onto the class and give consent
No under 16s. We put these guidelines in place for the safety, comfort and enjoyment of all our students.
Membership
Members benefit from half price life drawing sessions and annual membership costs just £30.
You can join for just one year or purchase an annual subscription.
Please note members' benefits are per individual and not transferable.
What our students say
Thank you for the smashing sessions, I shall definitely look out for more!
I enjoyed this class very much, and learned some great techniques.
I found the tutorial very helpful and mentally uplifting, thank you to all involved in these online classes.
Thank you all in St. Ives, it has been truly inspirational, your professionalism has shone through in communicating the School's ethos as well as the tutors' personal creative approaches.
Thank you for such a brilliant morning- very inspirational and instructive- also great fun!
The Saturday Life Live Session was absolutely fabulous….such an interesting and informative session.