Our History
The Realisation of a Dream
When the St Ives School of Painting opened in April 1938, it was the fulfilment of a vow made by two young officers who had served in the trenches some twenty years earlier. They vowed that if they survived the horrors of the Western Front they would one day live and paint in St Ives. Both were trained and experienced artists: Borlase Smart studied under Julius Olsson RA at his School of Painting in the Porthmeor Studios in St Ives, and Leonard Fuller trained at The Royal Academy.
After the war, Borlase Smart and his wife settled in St Ives, living for a while in his Porthmeor studio. In the years that followed, he became one of St Ives' leading painters specialising in boldly rendered seascapes. He was a founding member of the St Ives Society of Artists and did much to promote the work of local artists.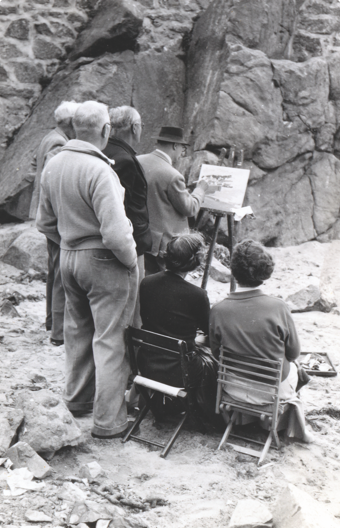 Leonard Fuller, by then married to Marjorie Mostyn RCA whom he had met at the Royal Academy Schools, had returned to London and become Drawing Master at Dulwich College, at the same time gaining a considerable reputation for his portraits – many of which were shown in the Royal Academy Summer Exhibitions
By the mid-thirties there was a need for a centralised art school in St Ives, Julius Olsson's school having ceased some twenty years earlier. In 1938, Borlase Smart persuaded Leonard Fuller
to leave London and open the St Ives School of Painting in Denis Mitchell's former Porthmeor studio.
The stated aims of the School were, 'To assist the many resident and visiting students in attaining the requisite proficiency to enable them to express themselves adequately in various mediums;
especially to enable them to combine their studies in landscape with figure and portrait work, carried on simultaneously.'
The School was an immediate success, attracting students from all parts of the country and abroad, many of whom would go on to become successful and accomplished artists.
A Mecca for Modern Artists
1939 saw the arrival of Ben Nicholson, Barbara Hepworth and Naum Gabo to St Ives. Along with Bernard Leach, who had set up his pottery in 1920, they were to form the nucleus of a modern art movement which would achieve an international reputation within a few short years.
Leonard Fuller was sympathetic to new ideas and welcomed the newcomers, as did Borlase Smart who invited Nicholson and Hepworth and later other younger artists to join the St Ives Society of Artists. Among these other young modern artists were Peter Lanyon, Terry Frost and Wilhelmina Barns-Graham, who all regularly used the facilities of the School, particularly the life classes.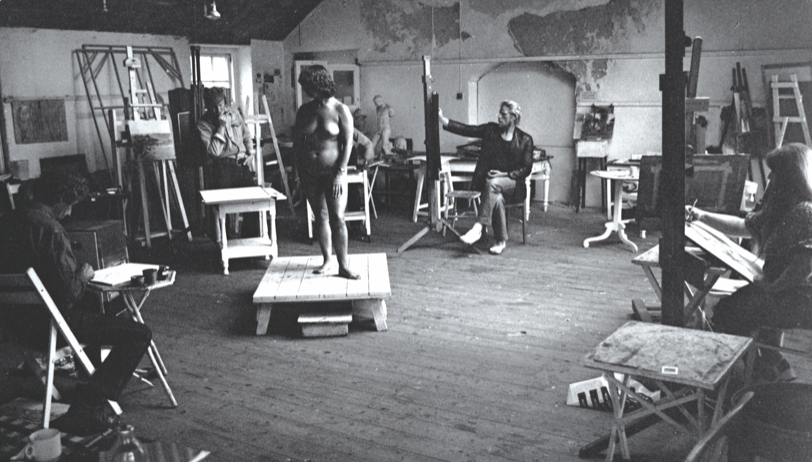 With a fabulous Atelier atmosphere steeped in history, I cannot recommend it highly enough. The staff and tutors are consummate professionals and apart from being particularly friendly, warm and, well, just lovely, I was very impressed with the attention that they afford the artist/student. Gary and Liz are incredibly passionate about drawing/painting and their knowledge and experience, coupled with outstanding people skills will leave you wanting to come back again.

J. Friskney Adams.
Rising Reputation in the 1950s
The 1950s were exciting times for St Ives artists, whose works gained national prominence in the Festival of Britain and international recognition through touring exhibitions and links with New York.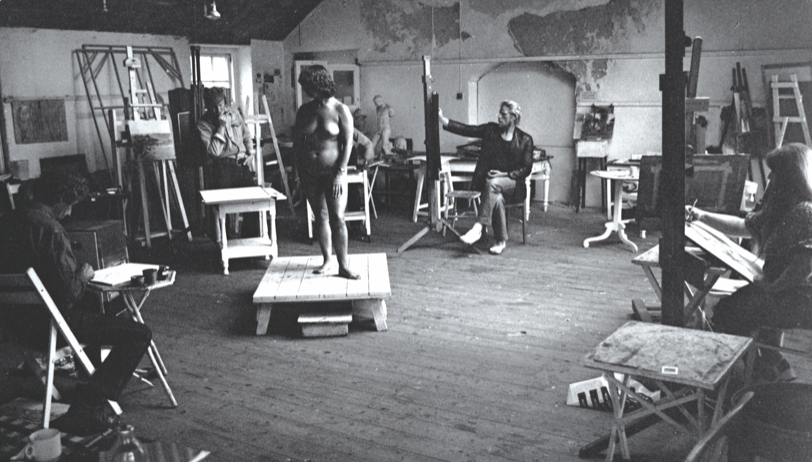 Many works from the 1950s by artists now known as the'Middle Generation', were produced by occupants of the Porthmeor Studios, notably Patrick Heron (who had moved into Ben Nicholson's former studio), Terry Frost and Wilhelmina Barns-Graham.
The School flourished throughout this period attracting both local and visiting students. One local artist who regularly attended the school during the 50s was St Ives born painter and primitivist Bryan Pearce.
Outrageous as the present art establishment in London would find it , a case could well be made for considering St Ives the most influential centre of Western painting during the late Fifties- at a moment (1957-58) when Paris began its nosedive from unchallenged pre-eminence, but New York's contribution had yet to become apparent outside Manhattan.

Patrick Heron – 1977
A New Lease of Life 1977 – 2000
The deaths of Leonard Fuller, Barbara Hepworth, Roger Hilton and Bryan Wynter in the mid-seventies were seen by many to be the end of an era. Fuller's widow Marjorie, continuing her husband's work, oversaw the running of the school.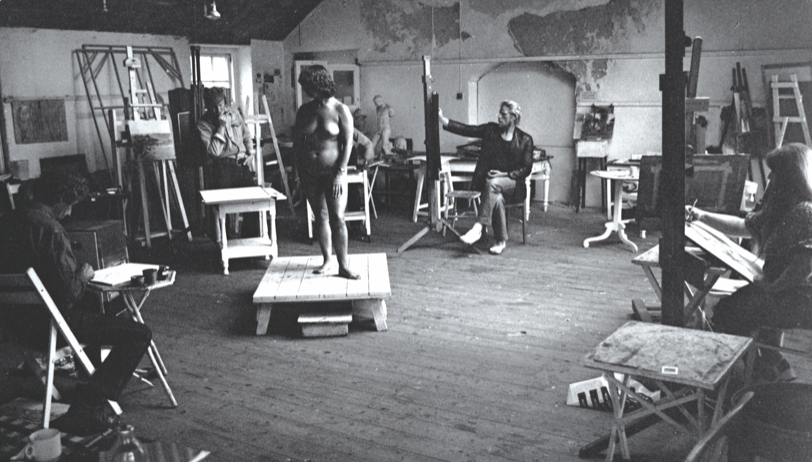 From 1975 the artist Roy Ray, who knew the School well from his visits in the 60s, was asked by Marjorie to take on the role of Principal. This brought a new lease of life to the school just as St Ives was also beginning to regain its momentum with the revival of the September festival in 1977, staging lectures, films and exhibitions.
In that same year, regular Wednesday evening life drawing classes were introduced, which proved to be very popular with both local artists and visitors – a tradition which continues to this day, having become something of an institution.
In 1985, the Tate Gallery's exhibition 'St Ives 1939-64' renewed interest in the work of the 'Middle Generation' and highlighted the need for a permanent showcase for their work in the town. Within five years, Cornwall County Council initiated a scheme to achieve this and a local organisation, St Ives Tate Action Group (STAG), launched its own campaign at The School of Painting – a campaign that was to raise a staggering £130,000 toward funding the award-winning Tate St Ives which opened in 1993.
By the late eighties, Roy had built up a team of artists/tutors who proved to be highly popular, particularly with students who were seeking access to contemporary ideas and a more personal direction in their work. Workshops were developed along the lines of mini-foundation courses which also proved valuable to sixth-form groups and by the 1990's visiting school groups from various parts of the country had become a regular part of the School's annual attendance. By the end of the nineties, the School had achieved charitable status.
In 2000, the School became a charitable trust continuing to run a wide range of courses throughout the year.
The St Ives School of Painting Today
In 2010, a new chapter for the School and the Porthmeor Studios began with the start of renovations headed by The Borlase Smart John Wells Trust, supported using public funding by Arts Council England. Desperately in need of attention, over the years the historic building had suffered from the harsh conditions of its marine environment.
While recent renovations have repaired and refurbished the Porthmeor Studios and ensured their future, the building's character and charm remain unspoiled.
The School now occupies a unique position and continues to provide a creative and imaginative space where students can expand their knowledge and develop their skills.
The varied course programme attracts students from far and wide, to be taught by practicing artists in historic surroundings, at the centre of a thriving arts community.
In addition to its popular art courses, the School regularly holds various art events, including exhibitions and lectures, many of which occur during the St Ives September Festival.
Our mission is to enrich people's lives by nurturing and enabling their creative spirit. We do this by providing high quality tuition and inspirational spaces, bringing people together to make art.
We have a set of values that we runs through everything we do. They are inspired by what we ask of students when they come here so they can make the most of their time with us. They guide how we do things here, whether you come as a student, come to teach, to work or volunteer.
We are creative – committed to our mission, resourceful and innovative.
We are courageous –challenging ourselves and others to keep learning.
We are caring – we work with a generous spirit both for ourselves and others, striving to do the best we can in everything we do.