Course details
Add texture, depth and luminosity to your oil paintings. Explore coldwax painting in a small group with this online course.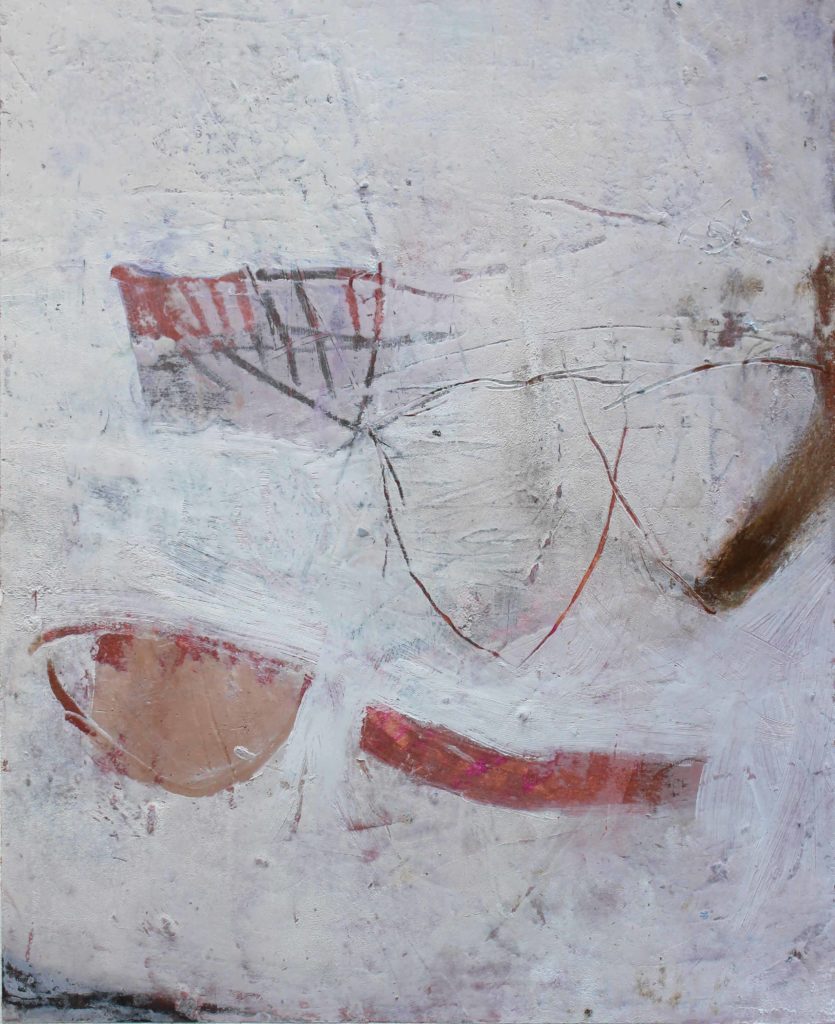 Join artist Laura Menzies for this three-day course exploring how to use coldwax medium with your oil paintings. Work more intuitively and expressively to create a series of compositions utilising this exciting technique.
This course is a chance to play and experiment with coldwax medium as a way to freshen up your painting practice. Over the three days, you will have the chance to try adding coldwax medium along with various other materials to create bold, expressive abstract works. Laura will help demystify how to harness these materials so you can create beautiful and ethereal effects at home with your own work.
Learn to add pigment and texture and to embrace happy accidents along the way, engaging with your practice in an imaginative and playful way. Treat the surface of your paintings more sculpturally, working up and working back into multiple pieces. Capture a sense of atmosphere through hues, tones and texture and have fun in the process!
This course will take place live on Zoom in a small interactive group enabling direct feedback on your work from your tutor. An ideal set up to speed up your learning and move on your painting to another level. You will have access to the recordings for up to six months after the course ends. After the course continue to share your work with other participants and alumni of the Painting School on our private Facebook group.
.
Sessions
Over 3 sessions , Laura will be working in the studio live and recordings of the classes will be shared with you. Questions will be taken at different points in the session.
Pre-course tech session : 29th July 4pm – 5pm
An optional session with our technical staff to make sure you are comfortable using Zoom and the online course platform. A fortnight before the course starts we will send you the zoom link for the technical session and further information regarding our online course management system.
Day 1: Tuesday 2nd August – 3 hours tutored session
This first session, Laura will introduce you to various tools and methods used in coldwax painting. A chance to play with mediums and textures. Experiment with different ways of working and see examples of how Laura uses coldwax in her work.
Laura will set you tasks to complete for the next sessions. You will also be able to upload your work to our interactive learning site, where Laura can give comments and feedback.
Day 2 : Wednesday 3rd August – 2 hours tutored session
Working across multiple paintings, Laura will show you how to add pigment and various mediums to give your paintings great texture and depth. Carve back into the surface of your painting using different tools.
Day 3 : Thursday 4th August – 2 hours tutored session
In this final session, you will have the chance to add final layers to your paintings and finish your pieces. This will also be a chance to share your work with your fellow students and get feedback from your tutor. Laura will offer various ways forward with your paintings and projects once the course has finished.
What will I learn?
Learn to create exciting intuitive paintings – have more fun and embrace happy accidents!
Build your confidence using coldwax medium in your oil. painting, loosen up and widen your painting repertoire.
Tips on loosening up when drawing the landscape, including new techniques to make drawing fun and expressive.
Build confidence in creating abstract paintings.
Adding pigments and texture to your painting.
How does an online session work
This course takes place in a small teaching group via Zoom. This is the closest thing to a studio experience without the need to travel.
You can ask questions and get feedback on your work in realtime. Chat live with fellow students during the course and stay in touch via our learning platform. After each session we will send you a recording which you can keep for a further 6 months, so you can practise what you've learnt and retain access to all the course resources in our virtual learning environment.
You can watch this on a PC, laptop or tablet and if you have chromecast or miracast you could even cast to your SmartTV from your phone.

Who would this course suit?
This course is suitable for all abilities. If you are interested in learning new skills and interests, or gaining confidence, experience, attitude and mobility in your painting practice, this course is for you. This course is a fun opportunity for painters interested in creating abstract oil paintings and engaging with it in a free and experimental way.
Sculptural Luminosity with Coldwax Painting
Mixed Media / Oil / Abstract
Sorry, this course is not currently available
What to Bring
We will send you a materials list to get together and any pre-course tasks.
You will need access to the internet and either a Smart TV, PC or laptop or a tablet with audio. Phones are not really suitable however cast your phone to a Smart TV.
Timings and Breaks
Pre-course tech session: 29th July 4pm – 5 pm
At 10:45 please click the link to join the live session.
2nd August 11:00 – 14:00
3rd August 11:00 – 13:00
4th August 11:00 -13:00
You will have access to a recording of the sessions so you can revisit as often as you like for the duration of the course and for up to six months after the live broadcast.
FAQs
Online Live Broadcast
Do I need a webcam/any equipment.
For our webinar sessions which are broadcast on the internet no webcam or microphone is needed as you just need to be able to see/hear hosts and you can communicate using the chat function. You can watch using a PC, Smart TV or tablet. A phone isn't ideal as you will struggle to see enough unless you can miracast to a screen or smart TV.
For the longer online courses on Zoom you will need a laptop or tablet with audio and camera enabled so you can have a screen near where you are working. If you have a PC without camera or speakers, you can purchase a plug and play webcam for approx £25 which connects to a usb port. You will also need reasonable broadband connection and speed.
I have registered for the webinar but I cant find my joining link
The link will be emailed to you at least 30 minutes before the session. Please check your junk mail and if you can't find the email please contact info@schoolofpainting.co.uk and we will resend it. You can use a PC or tablet or even cast from your phone to watch on your Smart TV.
I paid for the session but missed it, can you send me the video?
Currently all our online sessions are recorded and the video recording will automatically be sent to all who booked on the session. You will have access to the course for up to six months from final broadcast date & a month for online life drawing webinars.
Booking a Course
Can I pay by cheque?
Please get in touch by phone and we can hold your place for a few days whilst you post your cheque (made payable to: St Ives School of Painting) to us at St Ives School of Painting, Porthmeor Studios. St Ives TR26 1NG
How can I reserve a place?
We will hold a provisional reservation for 24 hours if you give us a call whilst you find accommodation. Otherwise please book online or by telephone 01736 797180.
You can reserve a place with a £100 deposit; balance is due 12 weeks before course start date.