Kids Sunday Art Club - Patrick Heron
Acrylic / Drawing / Various / Abstract
| | | | |
| --- | --- | --- | --- |
| Sun 24 Jan | 10:30-11:30 | Alessandra Ausenda | Book |
Love art? Bored at home? Why not join us online? Learn to take elements of a still life and abstract them into shapes and colours like Patrick Heron did.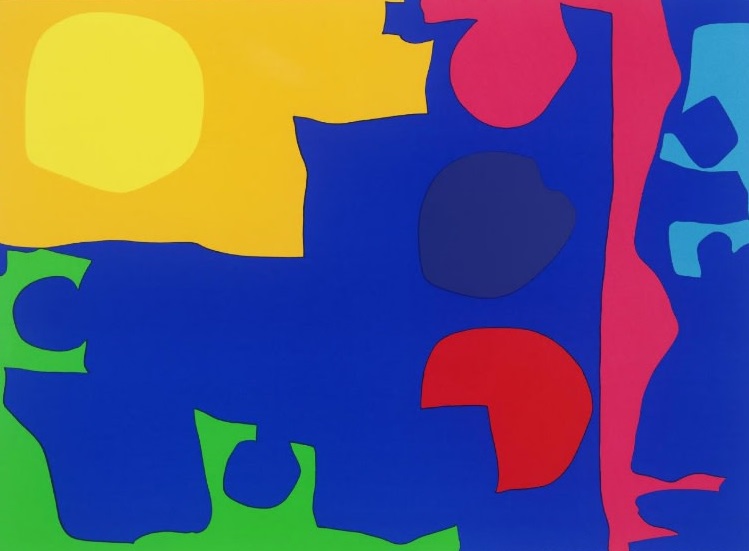 You will need
Paints: poster paints or acrylic – Red, yellow, blue, white & black
A few different sized brushes, these can also be household brushes for DIY
1 sheet or more of A4 white printing paper
1 sheet of heavy A3 or cartridge paper
2 sheets of thin card or cereal packet for your viewfinder
4 paperclips or some masking tape
Scissors
A pencil, rubber and sharpener
Something to mix your paints on, maybe a dinner plate or a piece of smooth card.
Aimed primarily at those between 7 and 12 but younger ones can join in with help from an adult or older sibling.
These fun workshops are just £10/session and the whole family can join in together for just one fee.
This week we will be looking at bold and bright paintings by Patrick Heron. He loved to look at colour in nature and create simple shapes on large canvasses. Can you collect natural materials like leaves, pebbles and berries when you go outside and fruit from your shopping? We will be looking at the colours and shapes of what you have collected very closely.
Then we will learn about mixing paint and you will create your own colour chart. You will draw simple shapes playing with size onto a larger piece of paper and use the chart to fill these shapes with paint. To finish off we will think about the background and decide what colours to make it.
Taking inspiration from the things around you, have fun learning about what makes a still life and abstract objects into shapes and colours like Patrick Heron.
Kids Sunday Art Club – Patrick Heron
Acrylic / Drawing / Various / Abstract
How Does an online session work?
Once you have booked, we will send you a link so you can join the session. You don't need to register with Zoom just follow the link you receive when you book. You can put questions to the tutor using the question and answer function during the session.
Your Tutor
Alessandra Ausenda
My own practice involves a range of materials and collaborations and I have always been inspired by sharing my enthusiasm for creating with others.
Whatever age group I work with, there is a connection and a tangible excitement in creative activity. It is a powerful tool with which to explore the world and ourselves. I see myself as a fellow traveller; sometimes leading and other times following.