Course details
Taking inspiration from the likes of Lucian Freud and Stanley Spencer, look at your own face in a completely different way. Understand the anatomy, tone and composition of the face, expressed in gouache and oils.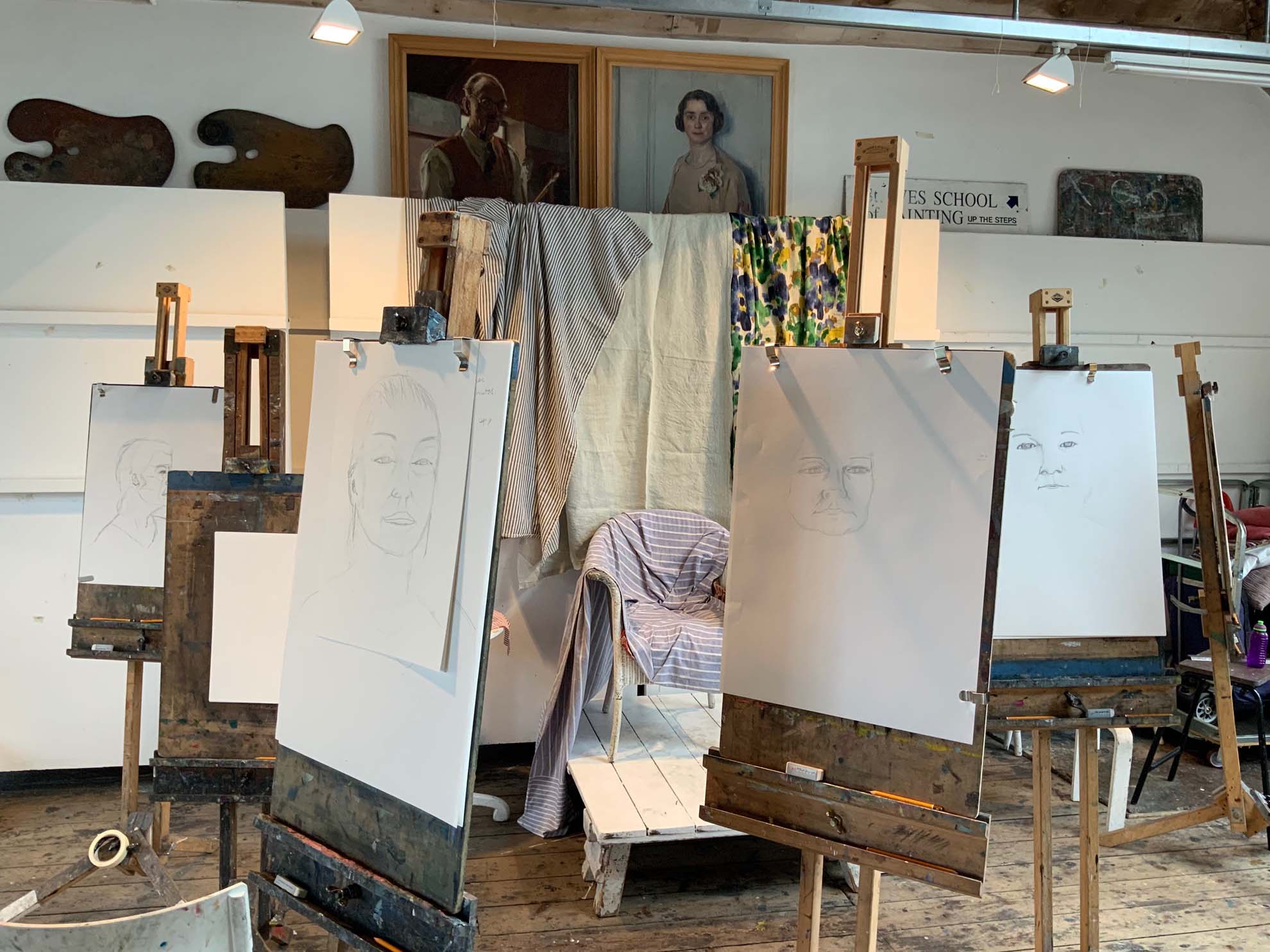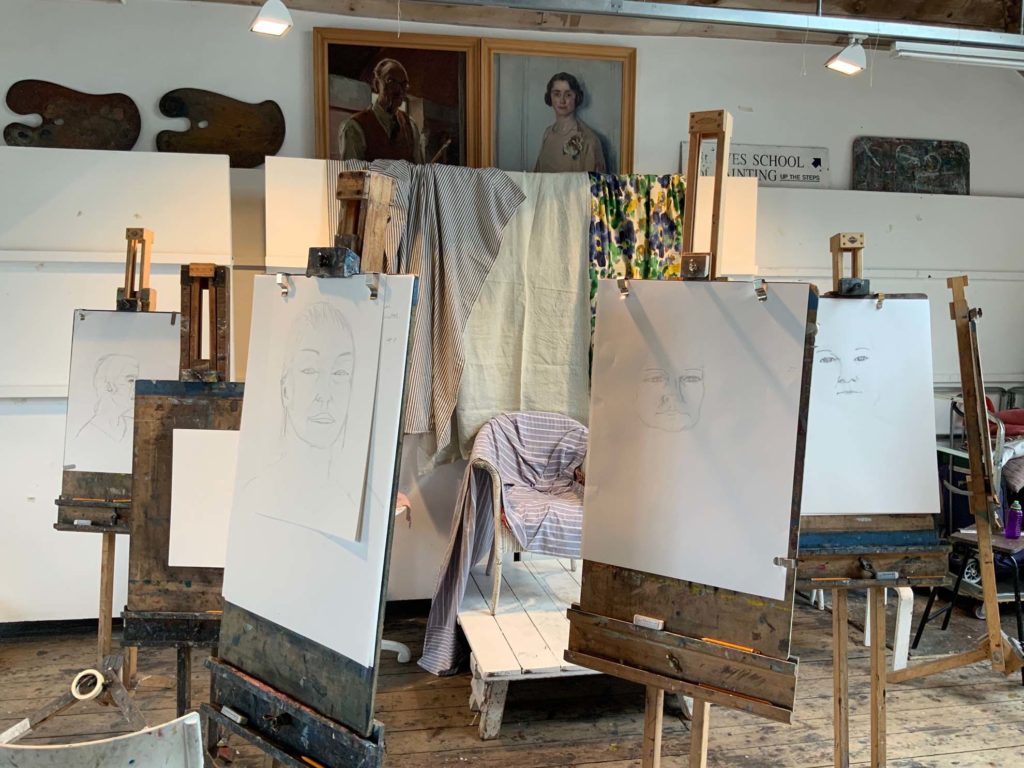 This four day course will be an opportunity to examine in depth approaches to portraiture examining and using the visual language of a variety of artists as your starting point including Lucian Freud and Stanley Spencer.
You will be working from direct observation with yourself as the model, reflected in a large hanging mirror. On the first day Hilary will show you how to read the face through drawing, studying anatomy, tone and composition. Then Gary will move you on to paint with gouache and oils to explore the essence of portraiture.
Teaching will be through demonstrations and one to one time with each student. You will work with two artists Hilary Jean Gibson and Gary Long, who also works on his own piece during the sessions so students can observe the process of development.
There are only 8 spaces so book yours soon!
What will I learn?
Understand the visual language of portraiture.
Learn to build a likeness through studying the architecture and anatomy of the face.
Gain insight into the successful composition of a portrait as an artwork.
Gain a critical understanding of the work of influential portrait artists and their techniques.
An opportunity to watch a successful portrait artist at work and witness the structure of a figurative painting first hand.
Who would this course suit?
This course is ideal if you've joined us for Getting Started with Portraiture, or have some prior experience with painting and life drawing. If you're looking to turn sketches and studies into compositional portraits that tell a story, this is the course for you.
Painting Your Portrait
Drawing / Oil / Waterbased / Figure – Materials included
Sorry, this course is not currently available
Taught by
In 1995 I became a tutor at St Ives School of Painting. Offering inspiration through my passion for drawing, water-based media and art history I strive to liberate a creative vision through direct observation and en plein air. My fascination in old buildings with a story to tell connects me to the studio's historic narrative. Working in the space can feel like being inside one of my own drawings.
After many years as an illustrator I taught on the BA Illustration course at Falmouth University. In 2011 I began teaching at St Ives School of Painting. I deliver courses involved with the figure, still life and landscape. My practice as a painter feeds into the teaching, often through demonstrations. The school is wonderful – the history the ethos and most of all the people.
What to Bring
Our studios are fully equipped and we provide you with all the materials you need for your course. However, if you have a favourite set of brushes or any specialist materials that you would prefer to use, please bring them with you.
Timings and Breaks
The first day starts at 10am and finishes at 4.30pm, please aim to arrive ten to fifteen minutes before the start time. Please wear a mask on arrival.
All course days after that start at 9.30am and finish at 4pm and there will be an hour for lunch. There are plenty of nearby places to eat and we will serve tea and coffee at break times during the day.
FAQs
Our Courses
How can I get help in choosing a course?
Our friendly expert staff are always happy to discuss your needs and our courses in more detail to help you with your decision. Please call us on 01736 797180
How do I get my work home?
Tutors have special techniques for transporting oil paintings and the school has plastic folders available in our shop for £3.50 or do bring a portfolio.
For international students we are happy to arrange transportation of your work back home.
What do I need to bring?
Absolutely nothing! All materials and aprons are provided although some people do like to bring their own set of brushes.
What do I do for lunch?
Courses allow an hour's break for lunch and there are numerous places nearby or you are welcome to bring a packed lunch into the studio.
What times do courses run?
Most of our courses start at 10am and end at 4.30pm on the first day. Subsequent days we start at 9.30am ending at 4pm.
Weekend Courses run 10am – 4pm on the first day but the final day starts at 9.30 and ends at 3.30 with a short lunch break to enable people to get home that evening.
Do you have to be experienced to come to the School?
The School is a very friendly and welcoming place for all ages and experience. Our drop-in life classes and August half-day workshops are ideal for those wanting to have a go for the first time. Most of our longer courses are also fine for novices.
If any of the courses do need a bit of experience we flag this up in the brochure and on the website.
Booking a Course
Can I pay by cheque?
Please get in touch by phone and we can hold your place for a few days whilst you post your cheque (made payable to: St Ives School of Painting) to us at St Ives School of Painting, Porthmeor Studios. St Ives TR26 1NG
How can I reserve a place?
We will hold a provisional reservation for 24 hours if you give us a call whilst you find accommodation. Otherwise please book online or by telephone 01736 797180.
You can reserve a place with a £100 deposit; balance is due 12 weeks before course start date.
About St Ives
Where do I park?
The nearest long stay public car parks are the Island and Barnoon both 5 minute walk away. In the peak summer months it may be easier to park at the big top car park by the leisure centre and walk down into town. If you don't fancy the walk up the hill at the end of the day there is a shuttle bus which runs from outside the cinema.
How do I get there?
Public Transport: If you are coming from further afield the main train line runs into St Erth which is a 15 min taxi ride away or you can take the St Ives Bay Line which runs approx. every 30 minutes. The School is a 10 minute walk from St Ives station.
Driving: M5 will take you to Exeter where we recommend that you take the A30 across Bodmin Moor and into Cornwall. After passing Hayle, leave the A30 at St Erth roundabout for St Ives. Turn right at the second roundabout. This road will take you through Lelant and Carbis Bay into St Ives.
Where can I stay?
St Ives has a huge selection of hotels, guest houses and self catering accommodation to choose from. Please browse the art holidays St Ives section on our website and give us a call if you would like any help.