How to Paint a Landscape
As seen in…

How to paint landscapes, according to 3 landscape artists
Words by Katie Avis-Riordan
• Landscape artists reveal their top tips on how to paint a landscape painting for beginners.
• Find out how to paint landscapes using the recommended materials and techniques.
• Discover how to get inspired by the beautiful landscapes around you to produce professional results.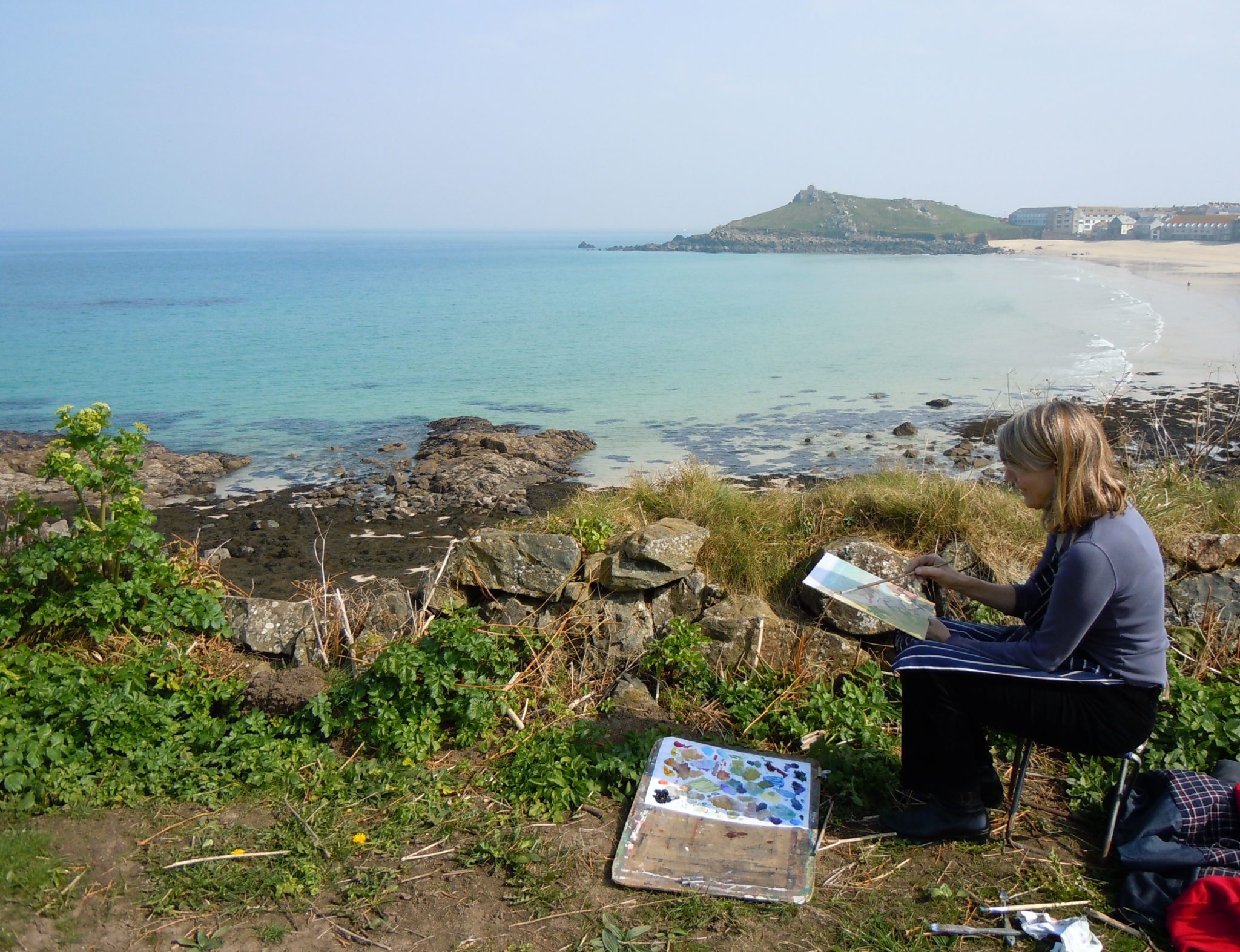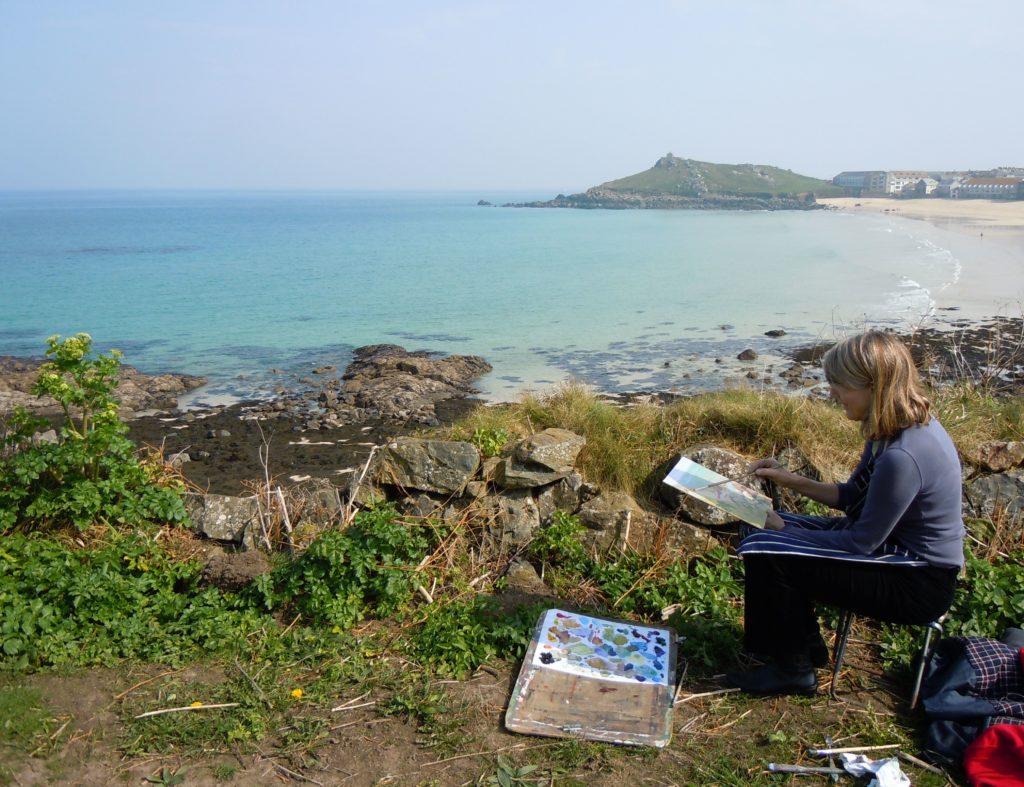 We are truly lucky in Britain to have such beautiful countryside that varies dramatically from rugged mountains and sweeping valleys to romantic forests and stunning coastlines.
It's so beautiful that even the least artistic among us can feel inspired to pick up a paint brush and attempt to capture the gorgeous visions on canvas.
To help you tap into your artistic talent and unleash your creative side, we spoke to three artists – Kerry Harding, Ges Wilson and Liz Hough – who tutor at the St Ives School of Painting, to find out how they respond to the landscape to create beautiful art. All three artists prefer a more abstract take on landscapes but their advice applies to all artistic visions of scenery.
And what better setting for their painting school than the stunning backdrop of Cornwall or, as known by fans of the TV drama, 'Poldark Country'.
The extraordinary light and beauty of St Ives have made it a popular spot for landscape artists for many centuries, including Julius Olsson, Ben Nicholson and Francis Bacon.
The school's workspace in the Grade II listed Porthmeor Studios overlooks the spectacular Porthmeor Beach and has been occupied by them since 1938.
Here's what the artistic experts Kerry Harding, Ges Wilson and Liz Hough had to say…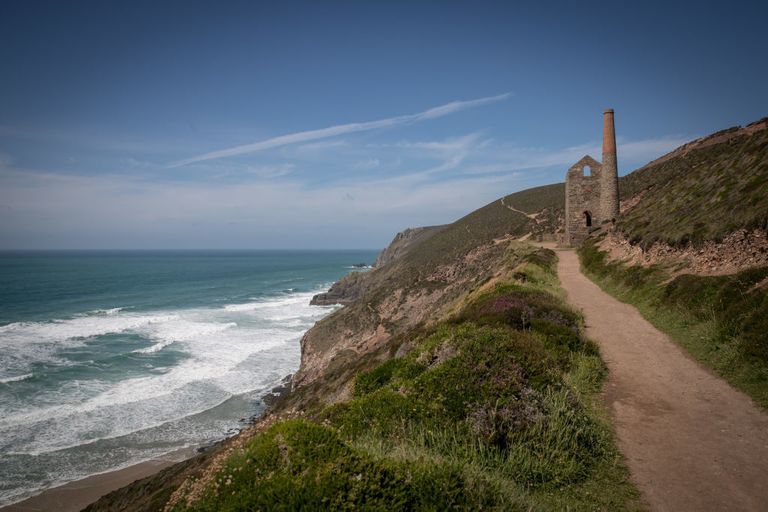 How do you find your inspiration for a landscape painting?
Kerry Harding – My everyday experience of being in the landscape is a fundamental part of my inspiration. In Cornwall it's where the land meets the sea and the first glimmer of an expanse of water. This possibly comes from not growing up on the coast and so childhood holidays to Cornwall always started with "can you see the sea yet?"
Ges Wilson – I spend a lot of my life sailing an old Cornish lugger and surfing, as well as walking and running on the moors and tracks with my dog. I constantly return to these wild and elemental places on the edge of the land or high on the moors, to paint outside. These environments, the homes of wild creatures, we need to cherish and to protect from human destruction.
Liz Hough – My favourite places to paint from are out in the wilder spaces, further west from St Ives – from where artists like Peter Lanyon and Patrick Heron took their inspiration.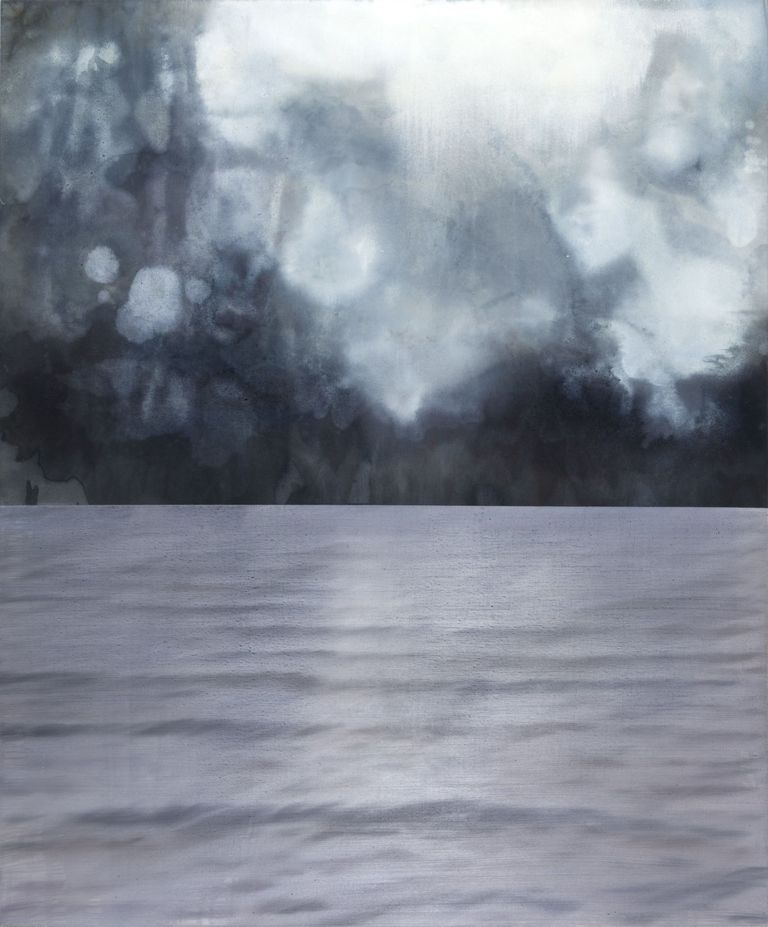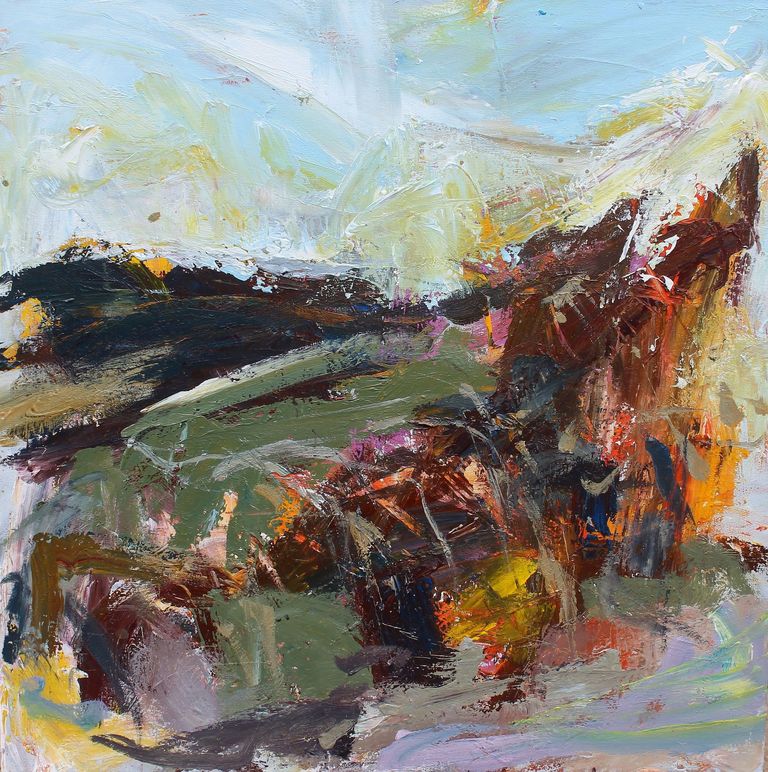 What are the best materials to use when painting landscape?
Kerry Harding – I only use oil paint for my landscapes as it's very malleable. It can be changed using oil and solvent into different consistencies that I can layer and rework using brushes, rags, card and many other unconventional tools.
I love to paint very large, such as on a 2m x 3m canvas, however, these are not practical on many levels. So I set myself a challenge to work much smaller (76cm x 102cm , £14.99, Amazon) a few years ago.
When I work on the painting back in the studio I still love the quality of oil paint (Set of 10, £14.99, Amazon) but it's not easy to move large oil canvases around and transport them home.
Ges Wilson – Each session I try to make a black and white image on paper using acrylics and drawing materials like charcoal and oil bar. This gives me a reference to tone and structure back in the studio. A sketchbook drawing also provides references to detail and structure, as I don't work from photographs.
I begin the canvas in acrylics (Set of 48, £17.99, Amazon), blocking in large areas and responding to the palette and experience of the day. Acrylics can give me problems on warm days and need spraying to stop them drying too quickly – but that's not often a problem in Cornwall. When I work on the painting back in the studio I still love the quality of oil paint (Set of 10, £14.99, Amazon) but it's not easy to move large oil canvases around and transport them home.
As I work quite quickly and expressively I don't often use small canvases, although a series of small studies can inform the larger works.
How do you choose the perfect landscape to paint?
Kerry Harding – The landscape I see everyday in north Cornwall is my inspiration. It has to be vistas, landmarks and motifs that I have passed daily for the last 15 years that I can respond to in my painting.
Ges Wilson – The landscapes and seascapes I choose are ones I experience – it's like being immersed in the environment. I work intuitively, trying to respond quickly to the atmosphere, elements and movement. Even on a calm day, there is constant movement of tide, wind and light.
Liz Hough – When choosing the right subject to paint, firstly I go out into the landscape and make a series of experimental drawings, using charcoal, and try to capture the essence of what I am looking at and experiencing. It is important to respond to the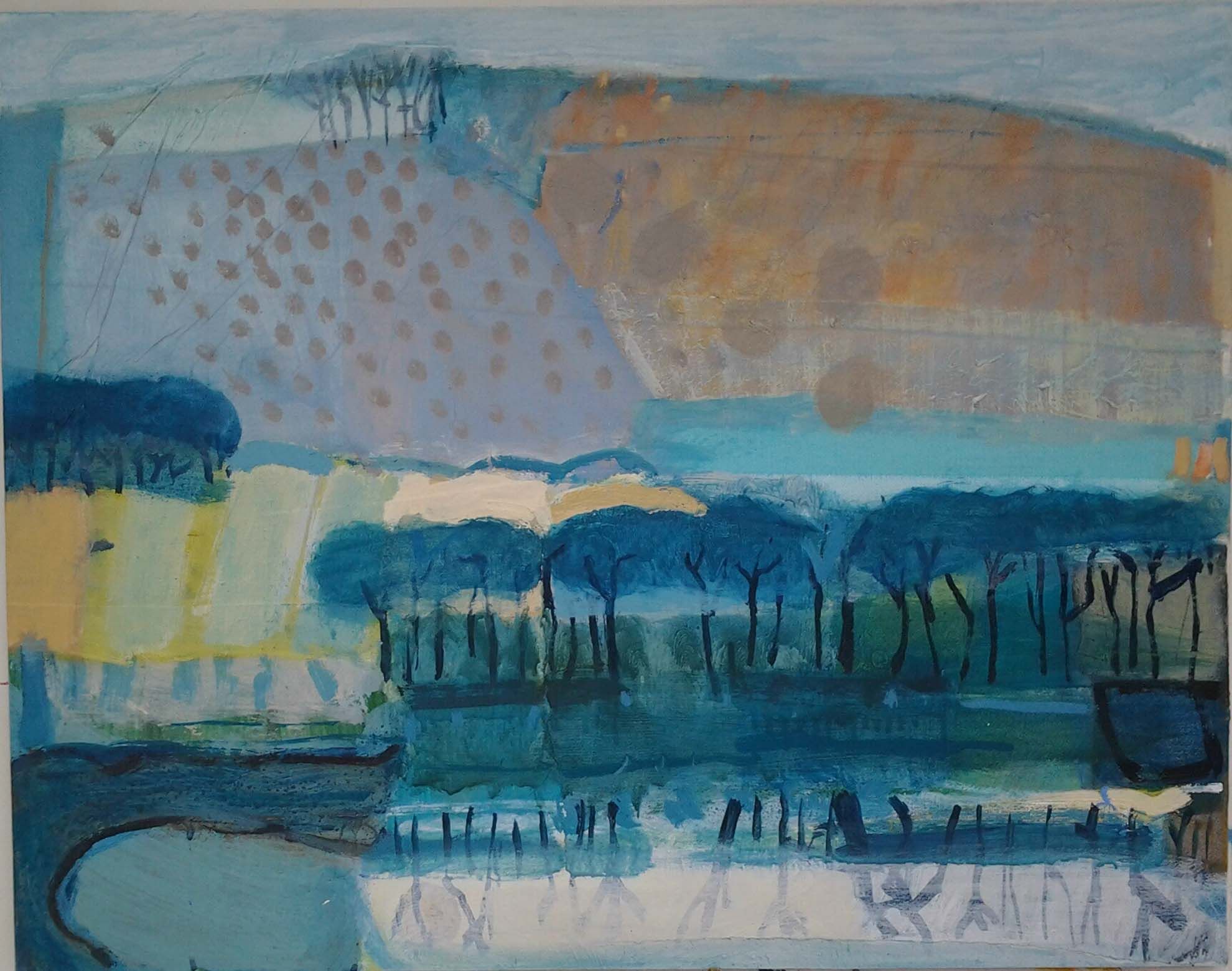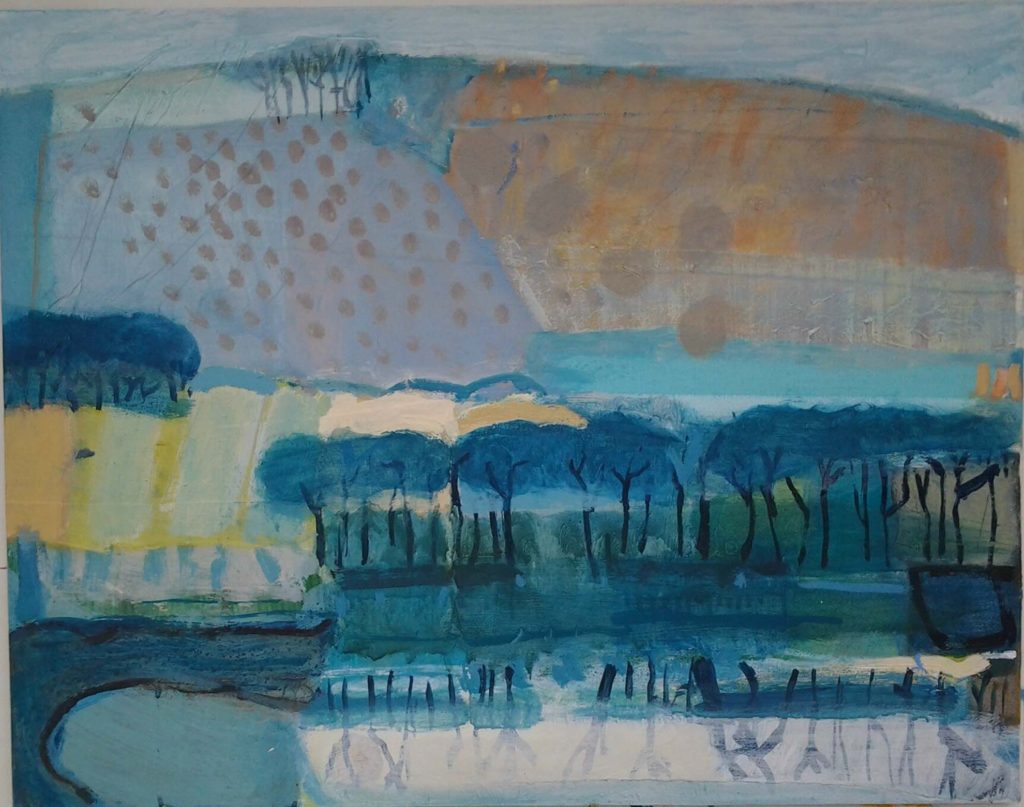 environment using not only what you see, but all your senses to record a moment in time. The weather, the seasons and your mood all play a part.
It is important to respond to the environment using not only what you see,

but all your senses to record a moment in time.

– Liz Hough
What are your top tips for painting the best landscape?
Kerry Harding – Be open to where your painting might go, be looser and embrace happy accidents. The landscape itself, particularly in Cornwall, is formed through cycles of growth, decay, chance, spontaneity, compromise and coincidence so perhaps mirror some of these processes in your application of paint.
Spend some time in your chosen landscape, photograph it, draw it, write about it and then be open to where all this information takes you. Start more than one piece at a time
and try not to be too precious. Shoulders down, relax and have fun.
Ges Wilson – I can only say take time to be authentic about your own feelings about landscape and seascape. Each place has its own special energy – interpret don't copy. Why would you want to make a photographic copy ( the lens will do that much better than your eye) or to paint like another artist? You have to interpret your own feelings and responses to places.
Liz Hough – My tips are when choosing materials to use, experiment layering with different mark making and use a mixed media approach.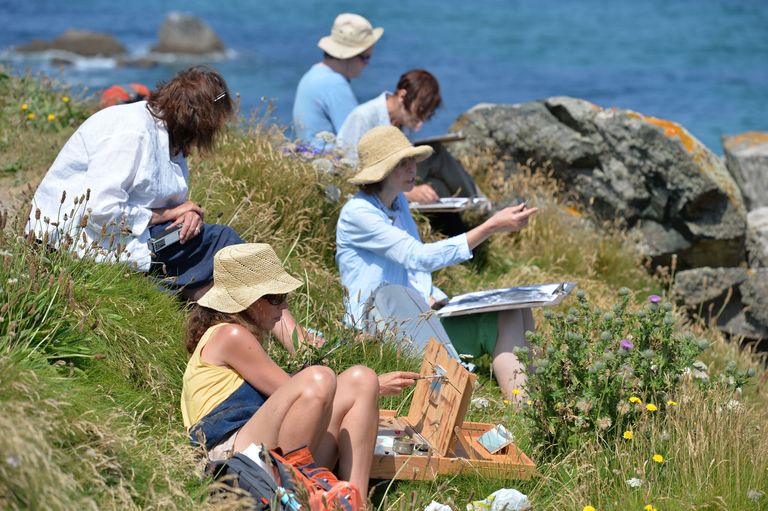 St Ives School of Painting offers a variety of two to five day art courses, run by a team of 20 practising professional artists. From abstraction to figurative, still life to wild windswept landscapes, their tutors lead courses that reflect their own passions and expertise. A huge variety of approaches that cater to all levels of experience, including total beginners, are on offer.
9/3/2020Jane Cowans
Share on