Course details
Explore Tuscany: the vibrancy of Italian life and architecture as well as the breathtaking landscape in the Spring. Develop a resonant response to place both in situ and in the studio.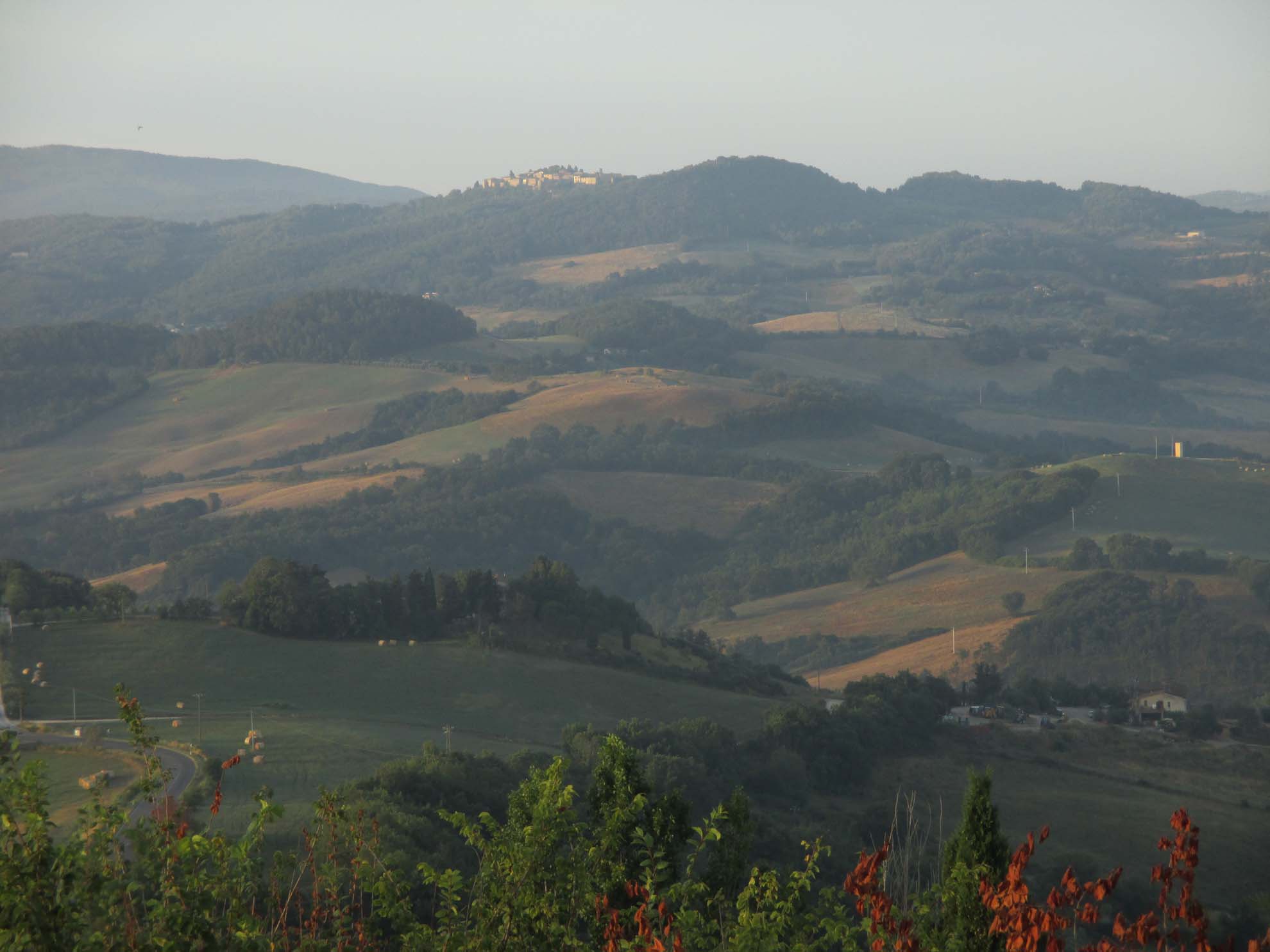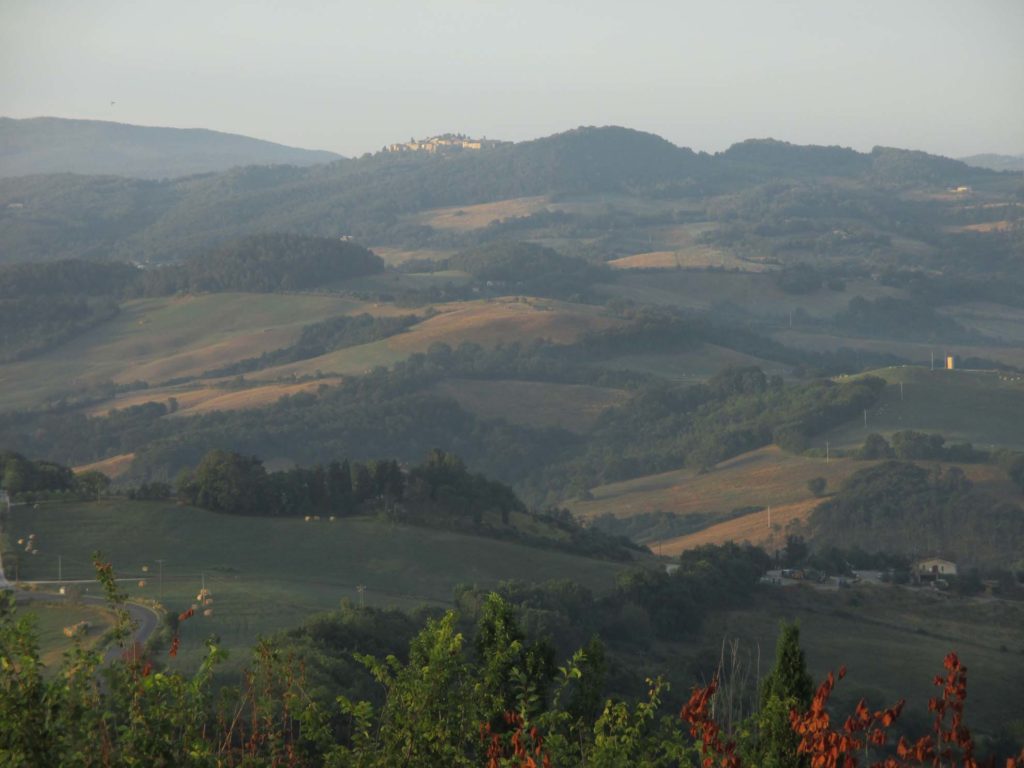 Join St Ives School of Painting this spring on our field trip to Tuscany, Italy. Follow in the footsteps of many of the St. Ives modernists who also fell in love with this unspoilt landscape. Artist Gary Long will work with you in the inspirational setting of the Verrocchio Art Centre, part of the fortified walls of the charming hilltop village of Casole d'Elsa.
We have a strong relationship with the centre based on shared principles that ensure a friendly, relaxed atmosphere. With six days of intensive tuition, there will also be time to work self-directed in the spacious studios. You can also choose to explore the surrounding area with opportunities to visit San Gimignano and Siena. Every evening savour the views and authentic Italian food and wine on the terrace while discussing ideas and art with new friends.
Spring is a beautiful time of year to capture the Tuscan landscape. This Italian field trip brings together varied subjects. It explores the natural landscape as well as vibrant Italian life and architecture. Use sketchbooks to learn how to capture areas of interest and make notes on colour and light source. Back in the spacious studio, you will develop paintings from these studies. Initially using gouache to explore ways of working intuitively, you will move on to oils. There will be six days of tuition and on other days, students can work self-directed in the spacious studio or enjoy the surrounding area.
Teaching will be through demonstrations and one to one time with each student. The tutor also works on his own piece during the sessions so students can observe the process of development.
Taught by
After many years as an illustrator I taught on the BA Illustration course at Falmouth University. In 2011 I began teaching at St Ives School of Painting. I deliver courses involved with the figure, still life and landscape. My practice as a painter feeds into the teaching, often through demonstrations. The school is wonderful – the history the ethos and most of all the people.
What to Bring
The School of Painting will provide you with all appropriate materials for the tutored time, however please bring your own sketchbook and any additional art materials you might like to use on the free days. If you have a favourite set of brushes or any special materials that you would prefer to use do feel free to bring them but please check with your airline about any possible restrictions on what you can carry. We also recommend that you bring some old clothes with you for when working in the studios, together with some appropriate clothing and footwear as some of your course will involve painting and drawing outside.
Timings and Breaks
The course includes 6 days of tuition, time for self -study in the studio and experiencing the Italian lifestyle.
You will be picked up from Pisa airport mid afternoon and taken to the Verrocchio art centre where you will have time to settle in and meet your tutor over dinner. The next morning is a time for you to explore, acclimatise and get your sketch book out. Teaching will begin after lunch.
There will be 6 days of tuition in total, with 2 free days for trips. The last tutored session will be on the morning of the penultimate day. Transfers to the airport depart after breakfast from the Art Centre at 9.30am on the last day. Taught days will usually run 9.30-12.30, break for lunch and teaching again 3 – 5.30 but timings may vary at the discretion of the tutor. The studios will be open to students to use throughout the day and evening apart from the first and penultimate days.
What our students say
Gary Long was fantastic, I learnt so much about colour and mixing colour, composition, how to go through the process of stages from the drawing to the actual painting. His demonstrations were brilliant from colour mixing to how to paint the pictures. He gave us all feedback and was encouraging and motivating. His wife Pat was also brilliant making sure we were OK, keeping us stocked up with biscuits and dealing with our queries and always happy and positive. It was like we were part of there family for the time we were together.
Good mixture of demonstration and own painting time. Good location and Gary's experience of previous visits meant we found interesting sites to sketch and draw. Lots of materials available. Good indoor space with easels. I was well supported and looked after by Gary and his lovely wife. Nice balance of days off to explore the region.
The studio space was wonderful plenty of room to spread out and walk around. Having the tutor at hand was helpful and reassuring.
I really enjoyed the course and got a lot from it. It was a delight to be immersed in the whole art experience at Verrocchio. Thanks to Gary's experienced tuition and support and his wife's excellent organisational skills and support it all ran smoothly and made it a wonderful experience.
FAQs
Studio Courses
How can I get help in choosing a course?
Our friendly expert staff are always happy to discuss your needs and our courses in more detail to help you with your decision. Please call us on 01736 797180
How do I get my work home?
Tutors have special techniques for transporting oil paintings and the school has plastic folders available in our shop for £3.50 or do bring a portfolio.
For international students we are happy to arrange transportation of your work back home.
What do I need to bring?
Absolutely nothing! All materials and aprons are provided although some people do like to bring their own set of brushes.
What do I do for lunch?
Courses allow an hour's break for lunch and there are numerous places nearby or you are welcome to bring a packed lunch into the studio.
What times do courses run?
Most of our courses start at 10am and end at 4.30pm on the first day. Subsequent days we start at 9.30am ending at 4pm.
Weekend Courses run 10am – 4pm on the first day but the final day starts at 9.30 and ends at 3.30 with a short lunch break to enable people to get home that evening.
Do you have to be experienced to come to the School?
The School is a very friendly and welcoming place for all ages and experience. Our drop-in life classes and August half-day workshops are ideal for those wanting to have a go for the first time. Most of our longer courses are also fine for novices.
If any of the courses do need a bit of experience we flag this up in the brochure and on the website.
Booking a Course
Can I pay by cheque?
Please get in touch by phone and we can hold your place for a few days whilst you post your cheque (made payable to: St Ives School of Painting) to us at St Ives School of Painting, Porthmeor Studios. St Ives TR26 1NG
How can I reserve a place?
We will hold a provisional reservation for 24 hours if you give us a call whilst you find accommodation. Otherwise please book online or by telephone 01736 797180.
You can reserve a place with a £100 deposit; balance is due 12 weeks before course start date.
About St Ives
Where do I park?
The nearest long stay public car parks are the Island and Barnoon both 5 minute walk away. In the peak summer months it may be easier to park at the big top car park by the leisure centre and walk down into town. If you don't fancy the walk up the hill at the end of the day there is a shuttle bus which runs from outside the cinema.
How do I get there?
Public Transport: If you are coming from further afield the main train line runs into St Erth which is a 15 min taxi ride away or you can take the St Ives Bay Line which runs approx. every 30 minutes. The School is a 10 minute walk from St Ives station.
Driving: M5 will take you to Exeter where we recommend that you take the A30 across Bodmin Moor and into Cornwall. After passing Hayle, leave the A30 at St Erth roundabout for St Ives. Turn right at the second roundabout. This road will take you through Lelant and Carbis Bay into St Ives.
Where can I stay?
St Ives has a huge selection of hotels, guest houses and self catering accommodation to choose from. Please browse the art holidays St Ives section on our website and give us a call if you would like any help.