Course details
Learn to use innovative painting exercises and unconventional tools to discover new possibilities for your landscape painting, plus: keep your creativity flowing back home with our innovative online tutorials.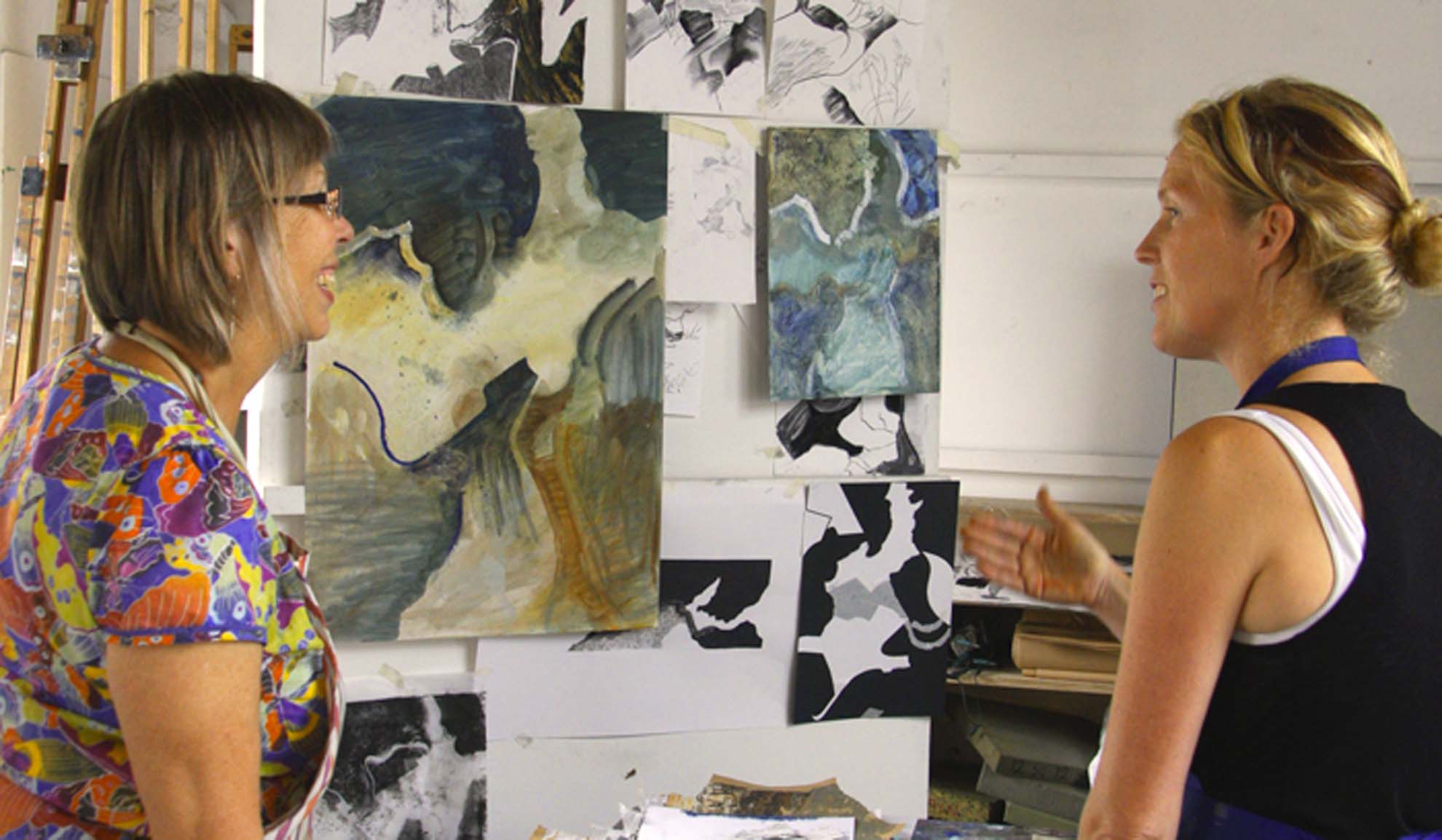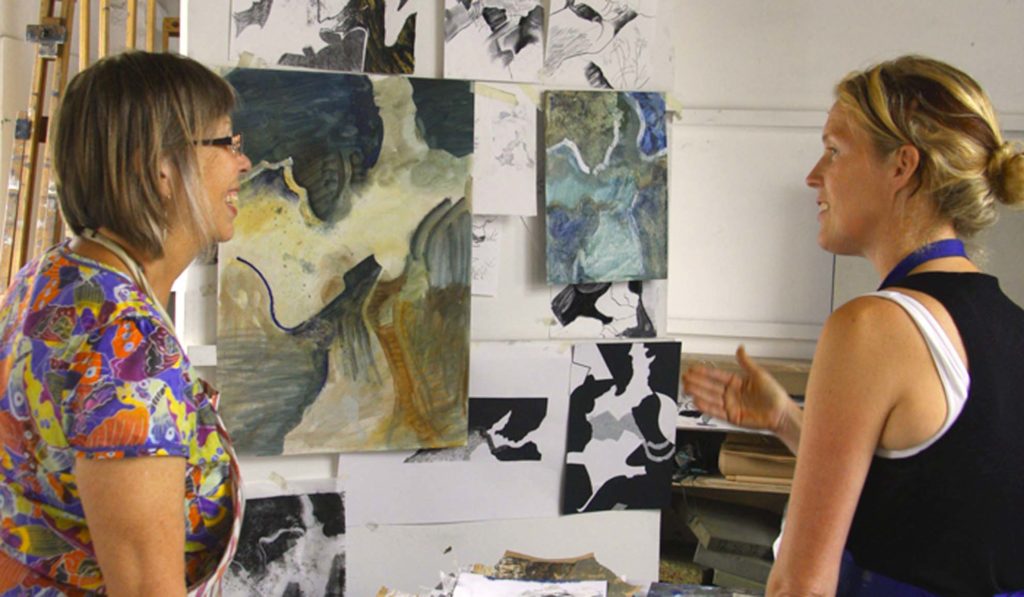 Following your 4 days of study in st Ives, extend your learning for a further six weeks with fortnightly tutorials in our online studio. Reconnect with your fellow students and tutor using your computer or iPad with full technical support. This extended course ensures you stretch your techniques; experiment in your approach and bring that St Ives inspiration back home.
Map the contours of memory onto your observation of the St Ives landscape using expressive mark-making techniques to articulate your own unique painting voice . This affirming experience will add to your chronicles of landscape, one that gives you permission to describe it in your own unique way. Prior to the four-day course at St Ives School of Painting, you will receive a list of questions to think about from your tutor, contemporary landscape painter Kerry Harding. These deepen your recollection of landscapes past, present and future helping you position yourself within them. What do you do when you're outside? Which landscapes do you draw comfort from? Which bring about a sense of awe, or unease? With images and sketches you collect, these prompts provide you with a powerful artistic resource during the course and after it, expanding the potential of your four days in St Ives. Kerry supports you throughout a process, helping you to listen more closely to what speaks to you, and how to process it through painting.

Consider the diverse contemporary landscape work of artists both Cornwall-based and international, such as Kurt Jackson, David Hockney, Maggie Matthews and Alasdair Lindsay. This exposure illustrates the bright possibilities of landscape work. Working en plein air around St Ives, you're encouraged to intuitively draw what you are noticing, rather than what you think you should be. You will use acrylic, oil paint and a variety of mark making techniques and manipulations.

On your final day, Kerry will give you an individual project to work on. Based on your challenges and inspiration from the course so far, this will structure a way forward once you return home. Over the next six weeks meet with Kerry and the group three more times from the comfort of your own home in our virtual studio space. Upload your work in progress a few days before, along with any questions or comments. Kerry will then facilitate a peer discussion, ensuring an open and receptive space for your questions and ideas. This course is a superb way to build an independent practice, gain momentum and form fruitful habits that allow your creative expression to flourish.
Follow on course from home
The online tutorials will run in two small groups, we will ask you to email us your preference once you have booked your place.
Please allow at least 10 minutes before and after the session to enable you to be set up and logged in, on the online platform and to allow for any over running of the discussion.

Upload your work on the Friday before, along with any comments or questions. We will have a technician to help you with this, so you don't need to be an expert using a computer. Kerry will facilitate a peer discussion to offer support and input for each person's practice and feedback on possible ways forward.
Please note: this course requires a good internet connection and a computer or up-to-date tablet.
Day to day plan
This is a rough indication of what to expect over the course. However sometimes the structure of the days may alter depending on the nature of the group and weather.
Day 1
Through structured exercises learn to use visual clues from your response to the preparatory questions. Combine this with observation to create a series of sketches and underpaintings both inside and outside the studio (weather permitting). Explore process: techniques of mark making in a variety of media, including acrylics and oils; composition; scale; working in restrictive, complementary and monochromatic colour palettes.
Day 2
Kerry will spend time with you one-on-one exploring and affirming your discovery and giving you the technical guidance to expressing that in your work. From here you will work on a series of paintings using the appropriate techniques explored from day 1.
Day 3 & 4
Continue to ask questions of your work and your response to the landscape. Evolve your series of paintings observing what challenges and new discoveries emerge. Discussions with your tutor form the basis of the task Kerry gives you to take home, offering professional insight into how your practice is developing and plotting a course for its progression. This will be followed up in online tutorials starting approx. 14 days later.
These online sessions will take place using a platform called Zoom, which we will introduce and full instructions will be given. A member of staff will be on hand to offer technical support to make sure you can see and hear everything.
You will need to have a laptop or iPad running up to date software and a good internet connection.
What will I learn?
– An appreciation of the diverse possibilities of expressive landscape painting.
– An understanding of the right questions to ask yourself when approaching expressive landscape painting
– A sharper understanding of what visual clues are emerging from your contemplation of landscape – past, present and future.
– The technical confidence to describe landscape in your own way.
– An chance to deepen your learning through extended contact with tutor and peers.
Who would this course suit?
This course would suit anyone interested in exploring their personal narrative through landscape painting but feel a standard short course isn't long enough. You might be a more experienced painter looking to embolden your own style and voice or someone interested in exploring landscape painting at an early stage. There will be some time spent outside on the beach and headland, so you should be comfortable walking, carrying your materials and working standing or seated on the ground. However the course is mainly based inside the studio.
This course involves working in oils. We use low odour white spirit and keep the studio well ventilated. However if you have a sensitivity to solvents and oil based products the course might not be suitable.
Taught by
'Giving permission' and 'making transparent' is what I try to do every time I teach. This inevitably leads to the reward of witnessing a small epiphany or pivotal direction change in a student's approach. I enjoy teaching at the school as it has no set 'school' approach, each course is put together and taught from the tutors own practice. This has the benefit of enabling me to be both tutor and student within this process.
What to Bring
Our studios are fully equipped and we provide you with all the materials you need for your course. However, if you have a favourite set of brushes or any specialist materials that you would prefer to use, please bring them with you.
Timings and Breaks
The first day starts at 10am and finishes at 4.30pm, please aim to arrive ten to fifteen minutes before the start time.
All course days after that start at 9.30am and finish at 4pm and there will be an hour for lunch. There are plenty of nearby places to eat and we will serve tea and coffee at break times during the day.
FAQs
Studio Courses
How can I get help in choosing a course?
Our friendly expert staff are always happy to discuss your needs and our courses in more detail to help you with your decision. Please call us on 01736 797180
How do I get my work home?
Tutors have special techniques for transporting oil paintings and the school has plastic folders available in our shop for £3.50 or do bring a portfolio.
For international students we are happy to arrange transportation of your work back home.
What do I need to bring?
Absolutely nothing! All materials and aprons are provided although some people do like to bring their own set of brushes.
What do I do for lunch?
Courses allow an hour's break for lunch and there are numerous places nearby or you are welcome to bring a packed lunch into the studio.
What times do courses run?
Most of our courses start at 10am and end at 4.30pm on the first day. Subsequent days we start at 9.30am ending at 4pm.
Weekend Courses run 10am – 4pm on the first day but the final day starts at 9.30 and ends at 3.30 with a short lunch break to enable people to get home that evening.
Do you have to be experienced to come to the School?
The School is a very friendly and welcoming place for all ages and experience. Our drop-in life classes and August half-day workshops are ideal for those wanting to have a go for the first time. Most of our longer courses are also fine for novices.
If any of the courses do need a bit of experience we flag this up in the brochure and on the website.
Booking a Course
Can I pay by cheque?
Please get in touch by phone and we can hold your place for a few days whilst you post your cheque (made payable to: St Ives School of Painting) to us at St Ives School of Painting, Porthmeor Studios. St Ives TR26 1NG
How can I reserve a place?
We will hold a provisional reservation for 24 hours if you give us a call whilst you find accommodation. Otherwise please book online or by telephone 01736 797180.
You can reserve a place with a £100 deposit; balance is due 12 weeks before course start date.
About St Ives
Where do I park?
The nearest long stay public car parks are the Island and Barnoon both 5 minute walk away. In the peak summer months it may be easier to park at the big top car park by the leisure centre and walk down into town. If you don't fancy the walk up the hill at the end of the day there is a shuttle bus which runs from outside the cinema.
How do I get there?
Public Transport: If you are coming from further afield the main train line runs into St Erth which is a 15 min taxi ride away or you can take the St Ives Bay Line which runs approx. every 30 minutes. The School is a 10 minute walk from St Ives station.
Driving: M5 will take you to Exeter where we recommend that you take the A30 across Bodmin Moor and into Cornwall. After passing Hayle, leave the A30 at St Erth roundabout for St Ives. Turn right at the second roundabout. This road will take you through Lelant and Carbis Bay into St Ives.
Where can I stay?
St Ives has a huge selection of hotels, guest houses and self catering accommodation to choose from. Please browse the art holidays St Ives section on our website and give us a call if you would like any help.