Marion Taylor
I have enjoyed teaching at The School for over 25 years and this has always gone hand in hand with my own practice, as I find sharing ideas and techniques stimulating and rewarding. My approach is to give students the confidence to develop their skills, to think for themselves and so extend their visual language and find their own path.
Marion has lived and worked as an artist in Penwith for 30 years. Her practice over that time has included painting, drawing, printing, photopaintings, 3D installation and site-specific work. Her approach is conceptual and the imagery holds many contrasts and contradictions – dark / light, real / surreal, observed / imagined, representational / abstracted – and in this way questions ideas around these conventions.
.
Marion is a long term studio tenant at the prestigious Porthmeor Studios . She exhibits widely, most recently in her sell out solo show: 'That's How the Light Gets In'. he is a highly respected figure in West Cornwall's Art scene. She was chair of Newlyn Society of Artists; part of the education programme at Newlyn and Exchange Galleries and has lectured and lecturer at University of Falmouth
See Marion's website for more about her practice.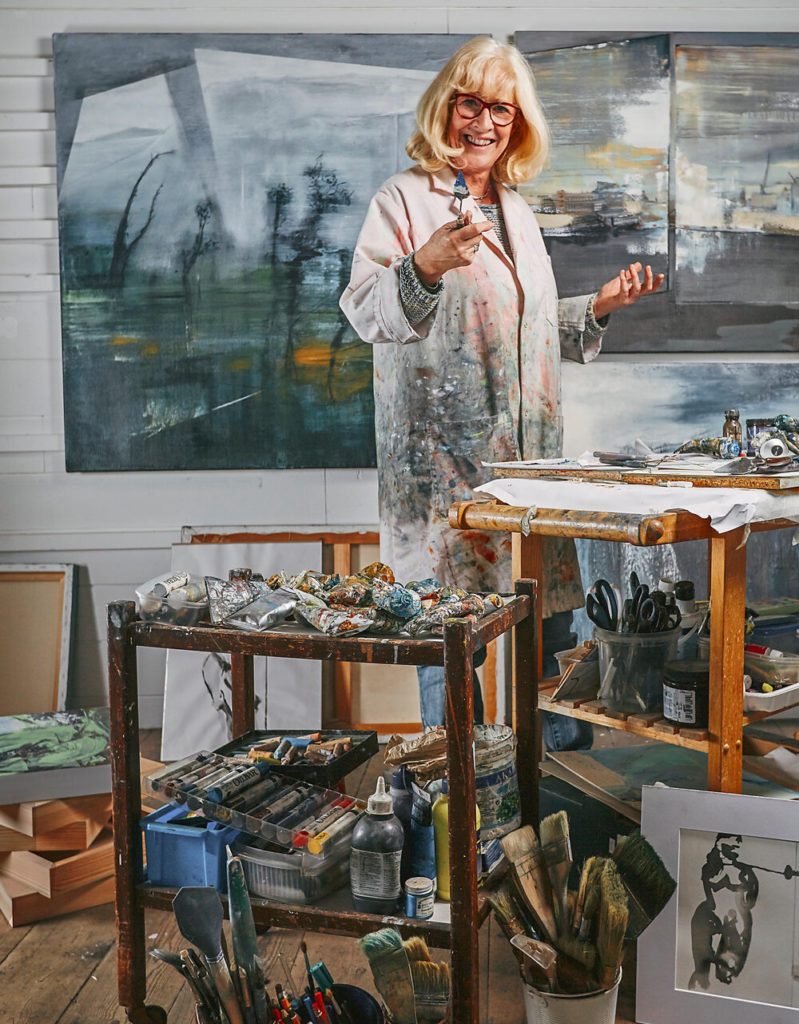 What our students say
A fantastic course which I have really enjoyed and has inspired me to rediscover my love of art. Marion was an excellent teacher , so encouraging and accommodating of all abilities. Thank you!
Thank you Marion for such a marvellous experience. I arrived nervous but was given a space to express myself. First time painting and discovered its great!
Stimulating, challenging, well organised and varied. I was looking for a new direction for my painting and this has given me a plethora of possibilities. Thank you!
If you want a course with excellent tuition, a well planned fast moving course – choose this one! It's the best course I've been on. I've learnt so much in four days. Thank you Kerry and Marion.
I really enjoyed the course, I learnt a lot – feel inspired to carry on. The tutors were lovely and very knowledgeable and friendly. The organisation of the course was very good and the facilities and location great. Thank you.
Amazing! Thank you, you have open up my love of art and given me the confidence to start! Liz and Marion were inspirational and motivational. P.s. All staff very friendly and helpful.
So much food for thought and further experiments with oil paint. My mind is full of shapes, lines, colours and textures. Fully immersed in St Ives School of Painting and Ben Nicholson.
A dynamic 4 day course led by two very experienced teachers. I felt pushed to the edges of my creativity at times but both teachers influenced me forward to complete pieces of work I would have never thought I was capable of.
More than fulfilled my expectations. A wonderful friendly atmosphere putting you at your ease. Could have been intimidating but it certainly wasn't!
Marion was extremely pleasant, encouraging and provided excellent tuition. She was positive and reassuring and raised my confidence to try more things.
Courses with Marion Taylor
Liz LuckwellMarion Taylor
Art Courses - Drawing - Beginners
Active sort order:
Course ID: a00w000000i3a1N
Active Instance: a024J00000DzEkdQAF, 26-Feb-2024

Ideal for beginners, this is a mini foundation, giving you a solid grounding in drawing and painting trying both acrylics and oils. Learn simple and dynamic approaches to build your confidence.