Mastering The Art of Keeping it Simple
As seen in…

Artist tutors Liz Luckwell and Marion Taylor share their insights to achieving modernist minimalism in a modern time frame. Harness the powerful abstract potential of the still life, inspired by modernist icons William Scott and Ben Nicholson.
"The art of art, the glory of expression, is simplicity," once quipped the great American poet, Walt Whitman. He vowed never to be 'meddlesome' in the composition of his work, and instead to keep it gloriously simple. If you're reading that with a wry smile and thinking something along the lines of 'easier said than done', you're not alone.
Throughout our decades as artists and tutors we have met countless creatives that wish they could stop their meddling: stop over-thinking, over-complicating and over-working. So we asked ourselves: how do you master The Art of Keeping it Simple? We devised a course inspired by two icons of simplicity: Ben Nicholson and William Scott. Working from the very same studios as Ben Nicholson himself, looking out over Porthmeor Beach and the Atlantic Ocean, we work with artists to overcome overcomplication and discover the beauty of simplified forms born right here in St Ives.
Paintings like Scott's or Nicholson's appear to be the product of sheer imagination and brilliance when in fact, the shapes and lines that appear conjured from thin air were the result of lengthy process and transformation. Less might be more, but less often means more work, too. Both painters used still life as a vehicle for creating paintings of perfect balance and simplicity.
Ben Nicholson is part of the fabric of St Ives' history. His influence is everywhere, as are his influences: bleached tones of sand and stone, weathered wood and sea lines. He came to Cornwall in 1939 to escape the bombing in London with his then wife, sculptor Barbara Hepworth,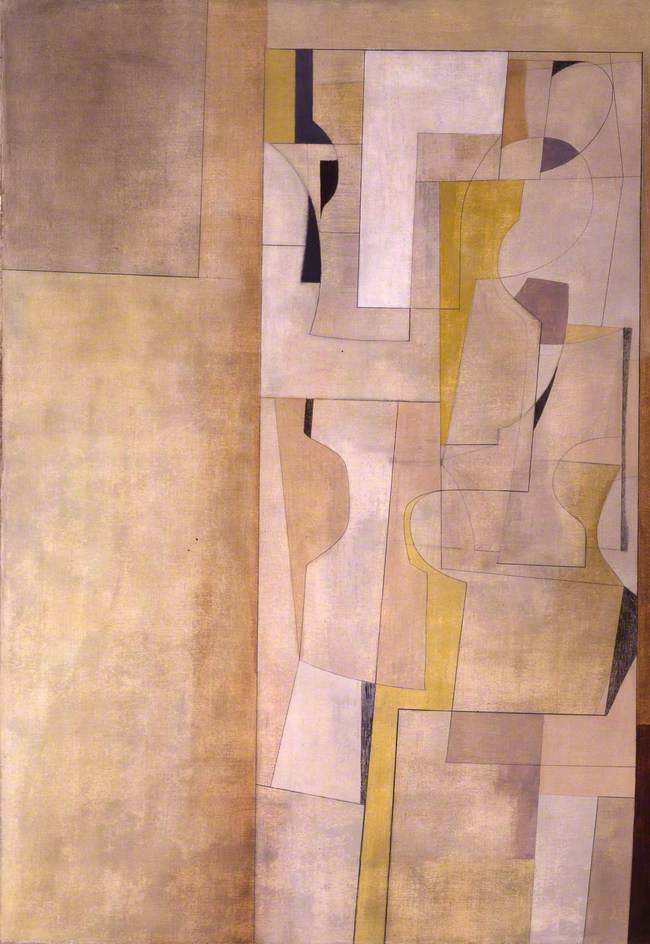 and their young triplets. Nicholson soon took up residence in Porthmeor Studios and 1940 signalled a change in his work from almost clinical abstraction to a more rustic, weathered style as seen in his paintings here.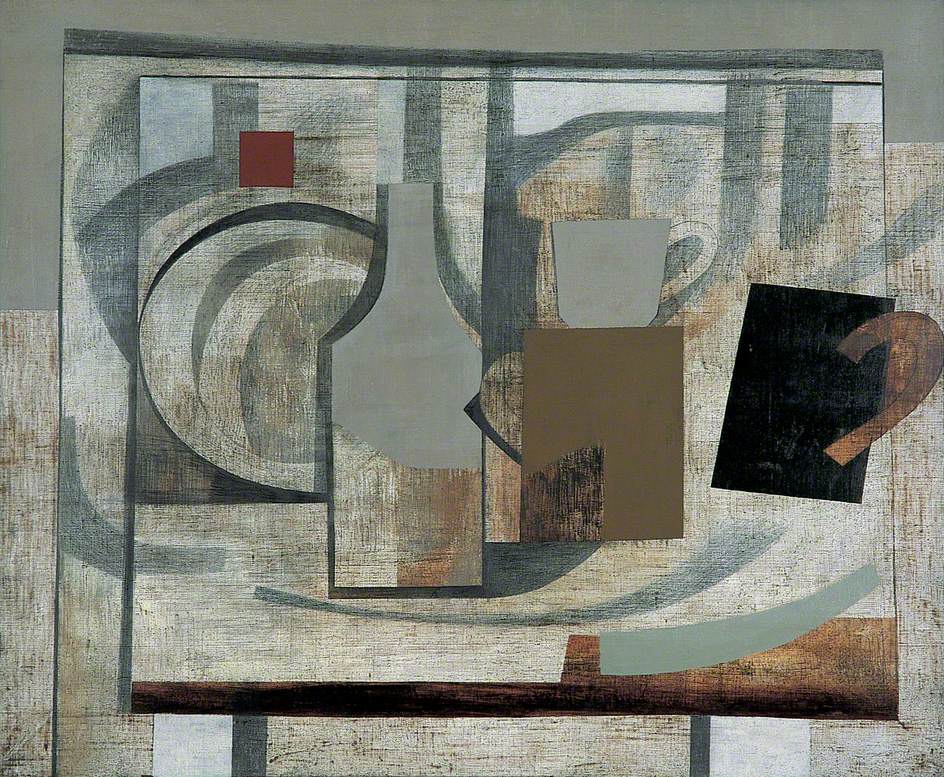 Though still resolutely abstract, these 1940s paintings had a domestic quality to them. The colours anchored the work to St Ives: chalky and putty planes layered up and scraped back. His combination of still life and landscape gives an enveloping sense of what it is like to sit in one of the studios looking out on Porthmeor Beach, a table of jugs or cups of tea in the window. These pared back surfaces and drawings took a long time to complete. Nicholson would paint a layer of oil paint and then leave it to dry, sometimes outside in the elements, then sand or scrape them back and paint another. It was a laborious process which Nicholson himself likened to watching his mother scrub the family kitchen table: an ordinary and essential act of devotion.
William Scott, on the other hand, was concerned with the domestic from his earliest days as an artist – painting from the objects that appeared readily in the 'grey, austere world' he describes growing up in. Again, his simplified forms were in fact the product of lengthy process, some of which was intentional reduction and obliteration and some just a matter of capitalising on happy accidents. The pans and eggs that were the recurring motifs of his work were valuable as shapes and lines, rather than subjects. By reducing them to pure form and function, objects that were once dreary and domestic transformed into something suggestive, even sensual.
Both painters were drawn to the spartan style that was emerging in St Ives in the early 20th Century, largely thanks to the naïve painter Alfred Wallis. Besides the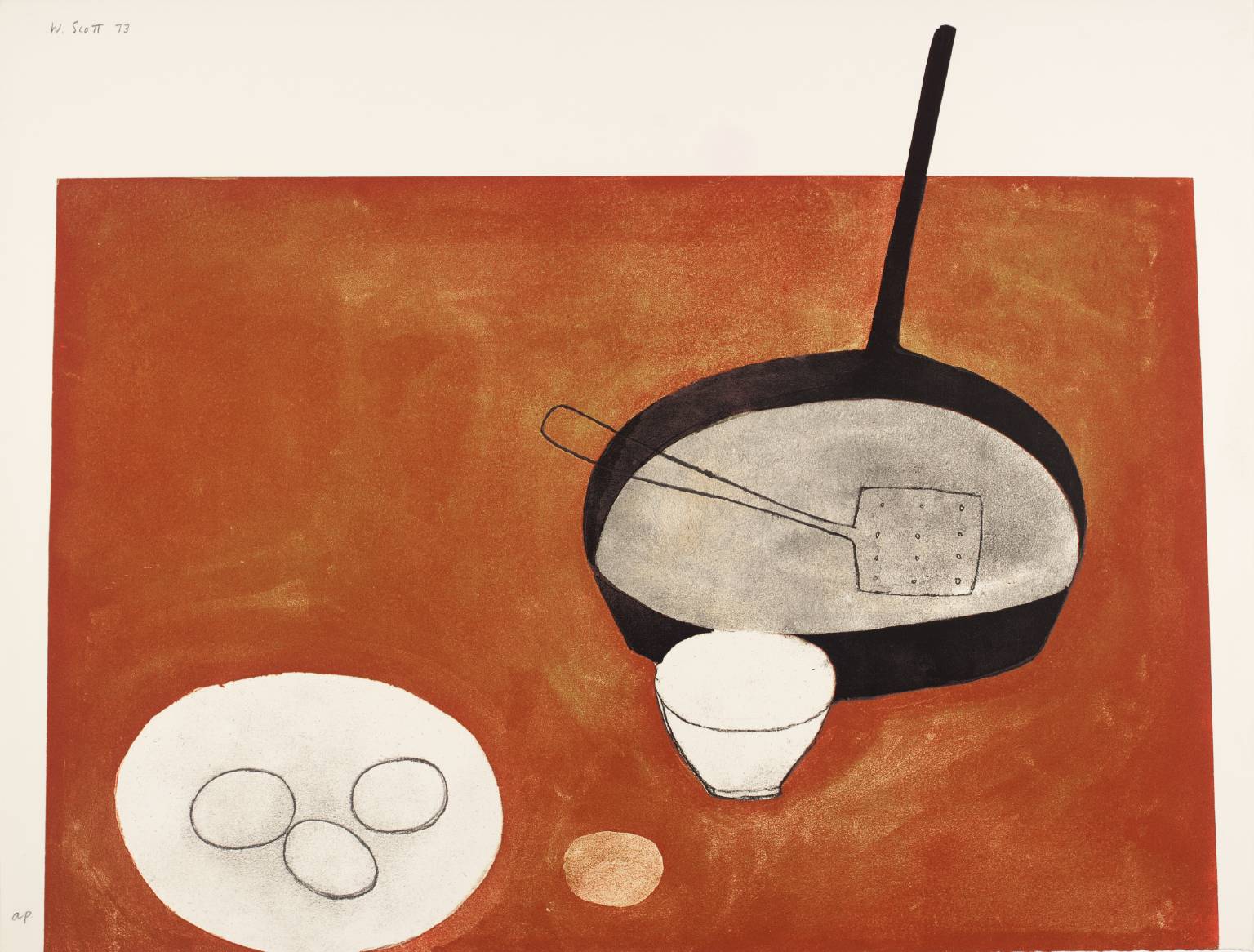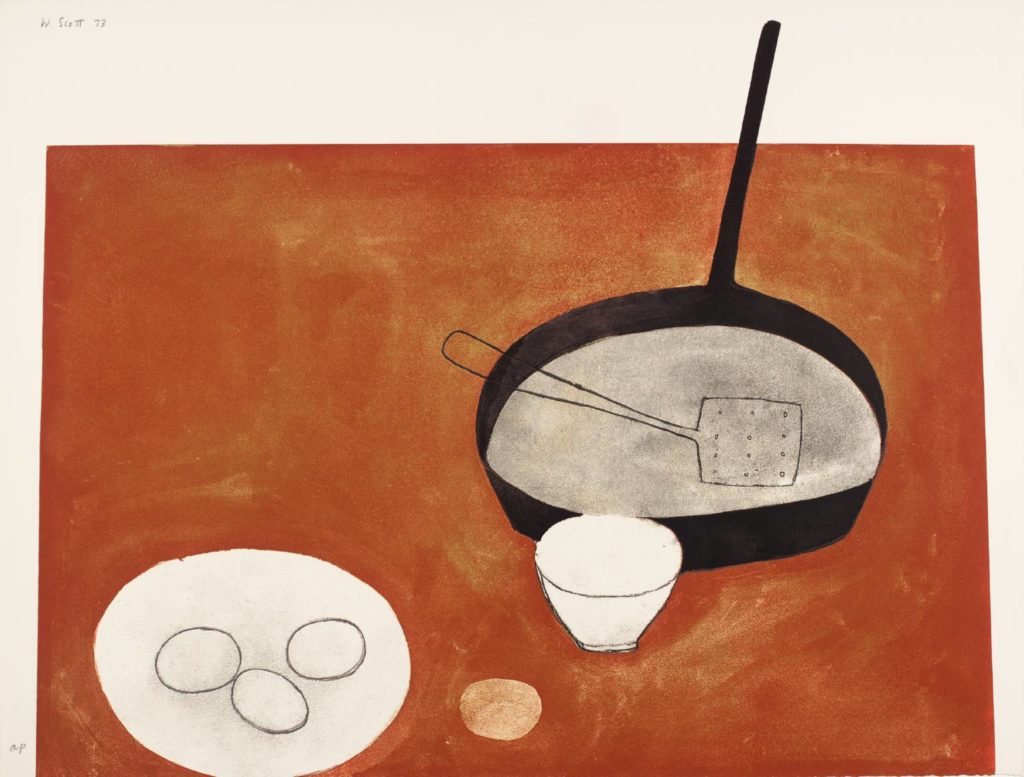 obvious attraction of the shimmering beaches and the thunderous rock formations of the coast, St Ives' contemporary art tradition is as alive and relevant today as it was 100 years ago. We wanted to bring the history of reduction and abstraction to life right where it began, offering students the chance to work from the very same views that Ben Nicholson worked from when he established himself as one of the fathers of Modernism. It is a chance for people to feel part of the electric history and atmosphere that has produced some of the world's greatest paintings.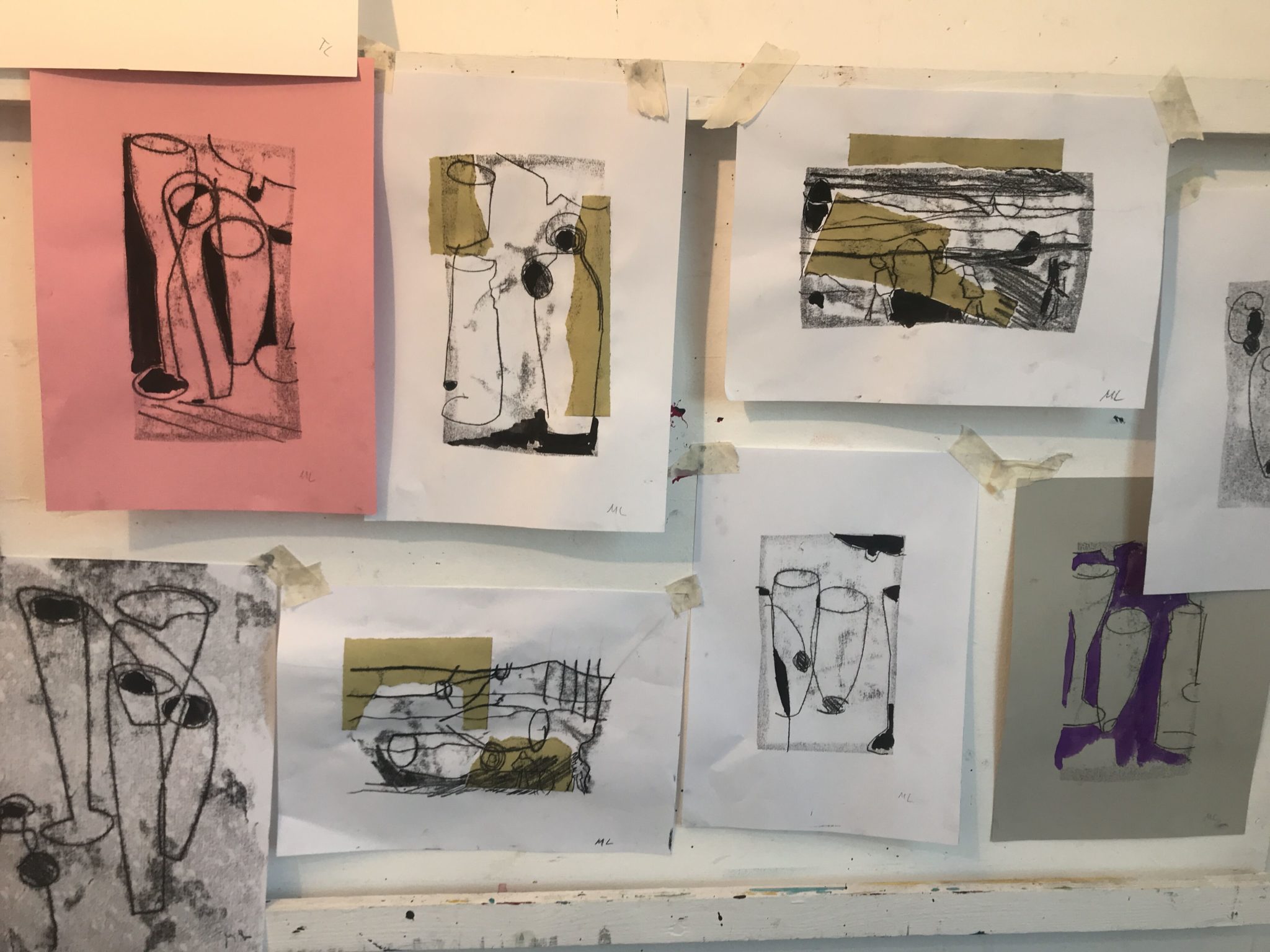 Monoprinting with Liz Luckwell
Begin by setting up a still life. The 'props' William Scott used for his still life were deliberately innocuous, he called them "the means of making a picture," useful as shapes and lines rather than subjects. When setting up your own still life at home, this is a good rule to live by: overthinking the subject defeats the object. Select the plainest objects around you and let them tell their own truth about where you are coming from as an artist. You only need two or three objects – pears were a favourite of Scott and we often use them in the studio, or just plain white mugs.
Another rule of Modernist simplicity is the limited palette. If you can, use background colours that echo the colours in your subject. This will give your image a unified tone similar to Nicholson and Scott. Monoprinting is an ideal place to start when approaching your composition as it requires looking for the essential lines of your subject and doesn't allow you to sketch or rub things out. You have to be loose and confident with your line.
You will need…
A selection of ordinary objects for a still life composition.
Pencil or graphite
Ink roller
Waterbased ink (we used Lawrence water washable relief printing ink)
A palette or surface to use as an ink well
An impermeable surface or plate such as acetate, glass or laminate
Lightweight paper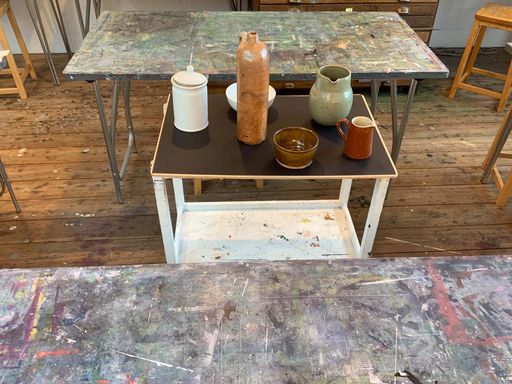 1 Set up a still life composition
Use a clear surface – a blank piece of paper or tablecloth is useful to focus the eye and define the outer shape of your objects. Make sure the area you're working in is well lit, though some shadow works to introduce tone to your drawings and prints.
2 Preparatory drawings
Take your time with these, familiarising yourself with the key lines of the image. Start by just drawing the outer edge of the objects, keeping to a single line. Then begin to add more detail of the interior, noticing which lines are of particular significance to the image. Then begin to incorporate some tone, light and shade, using only the pressure of your pencil: press harder in as you take your line over darker areas, and more faintly in areas of light.
3 Prepare the ink
Squeeze a small amount of ink onto your ink well and dab the roller into it lightly, coating it evenly on all sides. Roll the ink out as thinly and evenly as possible onto your printing plate.
4 Make your print
Float the paper over the ink, taking great care not to touch it as this will create marks on your print. Using your pencil, draw your design onto the paper, using different intensities of line to suggest tone, as practiced above. The result will be a velvety line image with an immediate and naïve quality to it. Because the image comes out in reverse, this is a technique many artists use for finessing composition for a painting, as it shows immediately if the image is off balance.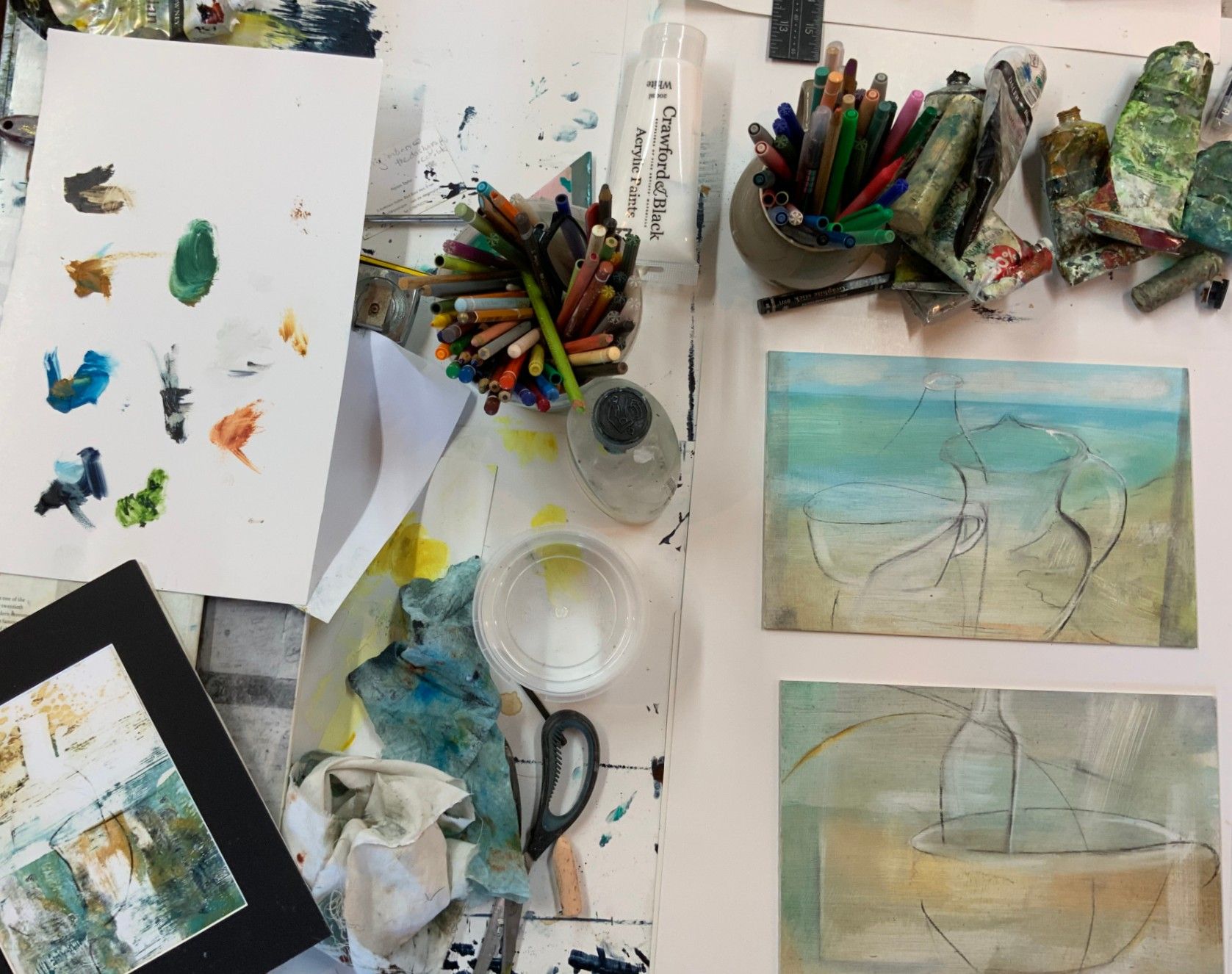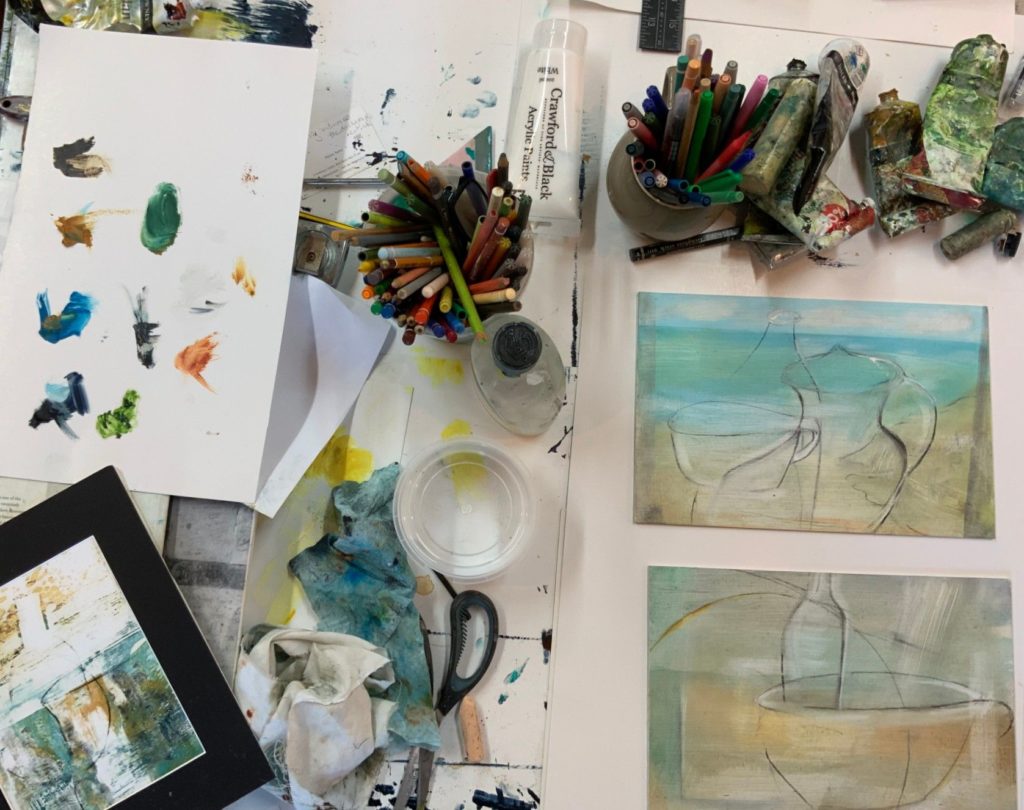 Painting with Marion Taylor in Ben Nicholson's 1940s style
People are drawn to Ben Nicholson's style because it allows you to get to the essence of what you're trying to paint. His drawing has a purity to it and the quality of his surfaces is so evocative. The shapes were sometimes geometric or architectural but still life was at the heart of his technique.
With the rise of Modernism, drawing became less about complex representation and more about condensing and simplifying things to their most essential nature. Nicholson had a collection of pots and jugs, inherited from his father – the admired painter Sir William Nicholson. Nicholson drew the vessels time and time again, clarifying them down to their main lines. The lines and curves he produced took on their own language, independent of the source. They were just beautifully drawn shapes. The scrubbed effect that emerged in his paintings in the 1940s and would become his signature was a result of reworking paintings, paring back and painting or drawing over earlier work.
You will need….
Ordinary objects for a still life composition (as above).
Acrylic primer (from a hardware store is ideal)
Wooden board or thick card
Oil paints (see below for colour suggestions)
Low odour solvent
An old rag, sponge or tea towel
Pencil or graphite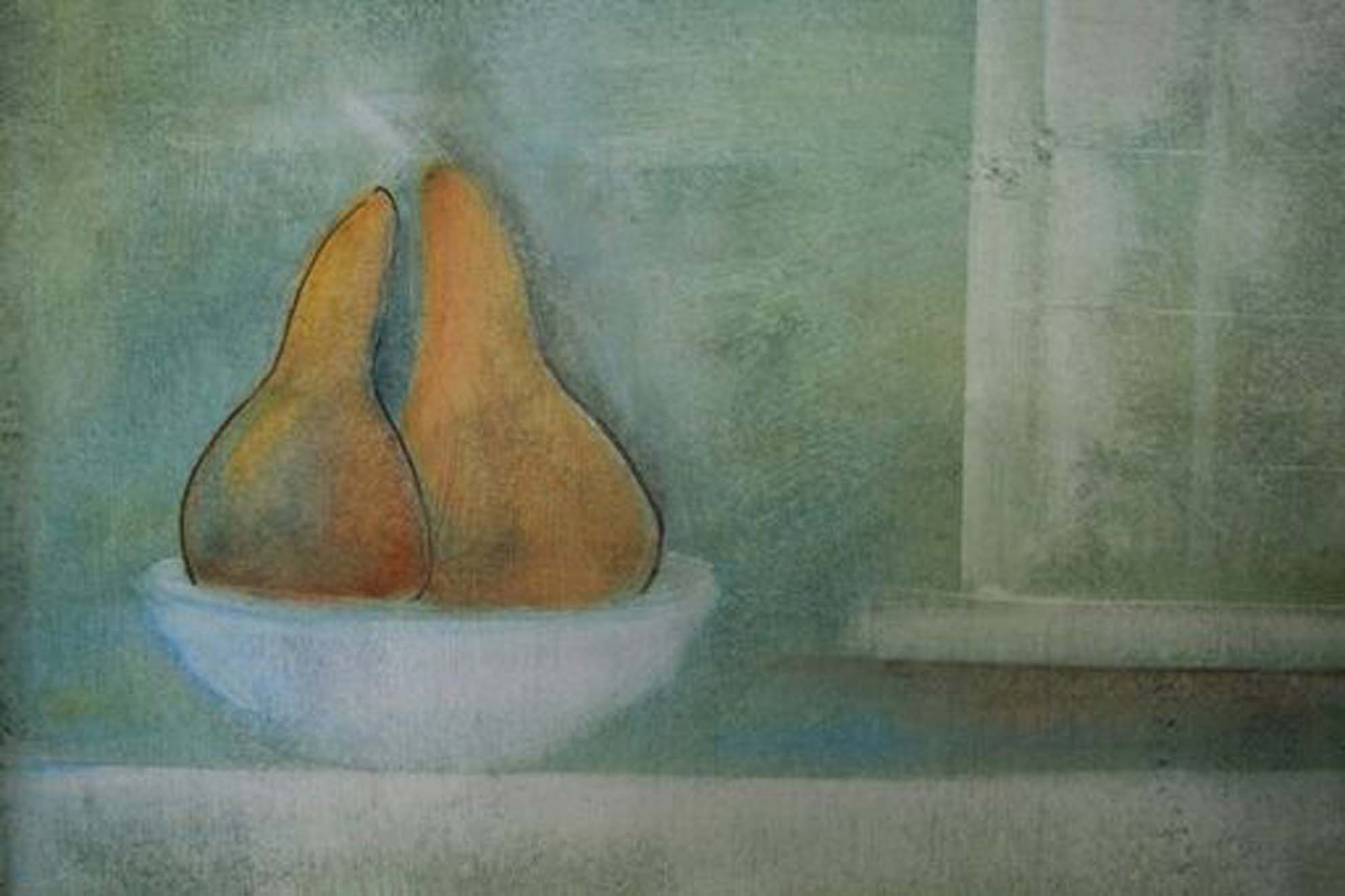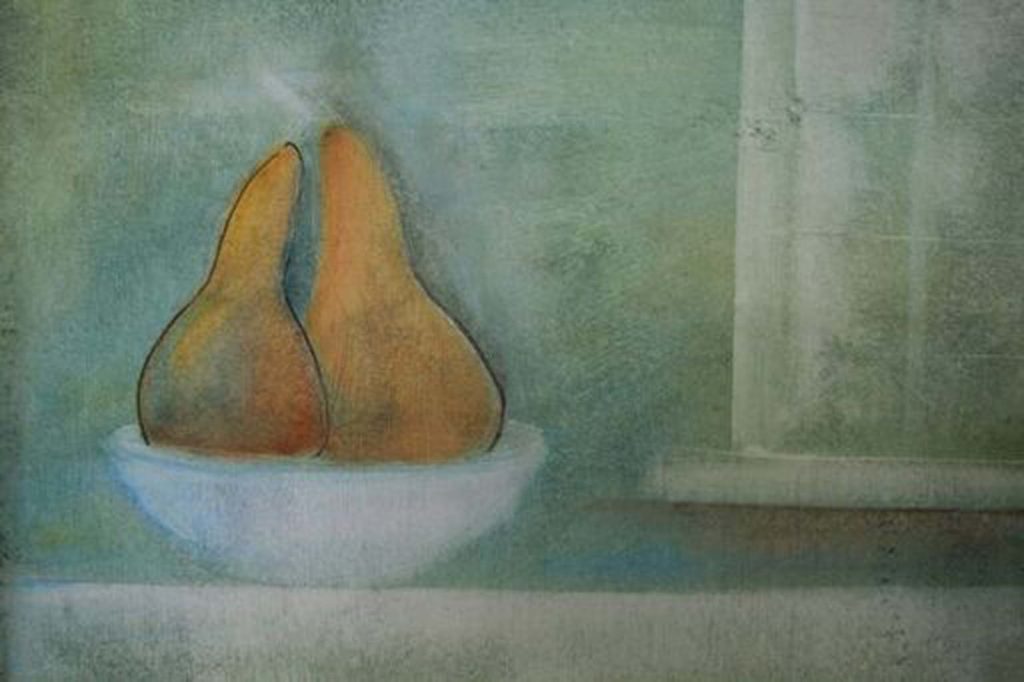 1Prepare your surface
Much of the magic of Nicholson's work comes from revealing the surface of what he's working into – the weave of the canvas or the grain of the board. To allow the paint to be moved and removed readily and provide texture to your image, use an acrylic primer that gives the paint some slip. Leave the brush strokes slightly visible in places. Let this dry completely before painting your ground.
2 Select your colours for the ground
The painted ground should supply your work with a sense of place. When I teach this technique, I try to return to Ben Nicholson's colours, which were basically about St Ives: stone and sea, sky and land. You can use any colours that are suggestive of a place or scene you'd like to evoke – I'd recommend using a limited palette comprising two colours, plus the earth colours and Payne's Grey. (When you remove the pigment in step 5 the primer acts as your white.) Some of Nicholson's colours are: Cerulean Blue, Sap Green, Payne's Grey and the earth colours – Raw Umber, Raw Sienna, Burnt Sienna.
3 Apply Paint
Ben Nicholson was renowned for his precise nature: the technique of rubbing back oil paint allowed him to achieve a very clear vision that already existed in his head. However, for many student artists a reductive technique works as a relief from the pressure of the paintbrush. Applied with a rag or a sponge, I find people worry less and work faster. Using your fingers covered by a rag, dip into a little solvent, then into your paint and cover the ground very loosely. You won't need too much solvent and you can use the surface to mix colours together.
4 Scrape Back The technique is as much about removing the paint as applying it, building up in thin layers to preserve a transparent glow almost akin to the glazing techniques used by the old masters. These techniques would again have been time consuming, waiting for each previous layer of oil paint to dry before adding another, but applied in this way, the acrylic primer gives the layered texture of brush strokes with the oil only sparingly used in layers to add colour and depth.
5Repeat As you're working on a white primed surface, you can apply the colours directly to the board and then wipe them back to combine and reveal the under-painting, or right back to the white. In this way the colours mix in unexpected and interesting ways, sinking into the texture of the surface. Your image can be continually changed, meaning your approach is freer than with a brush and you can achieve your atmospheric ground.
6Finish with drawing Your paint is thinly layered so you are able to draw into it straight away. Draw onto your ground the practised images with graphite sticks, (like Nicholson) dipped in solvent to make them more intense when you're ready. Or you can try Indian ink or even charcoal (which is readily removable). You can thicken some stretches of the line or fill in small negative spaces if your work is more abstract, as Nicholson often did. In this way, your finished image can be as figurative or abstract as you wish.
Join Liz Luckwell and Marion Taylor on their 4-day course The Art of Keeping it Simple from 29 June-2 July 2020 or 5-8 October 2020 at St Ives School of Painting. If you'd like to explore printmaking in more depth, Liz teaches Printing for Painters from 3-5 April and 20-23 November. Or if you want to know how to paint bold colours that complement, contrast and resonate, Marion delivers her 2 day course Be Colour Confident on 15 August and 3 November. The School runs inspirational art classes all year round, with a team of professional artists from its stunning studios on St Ives' Porthmeor Beach.
12/3/2020Jane Cowans
Share on