Porthmeor Programme Online
6 Months | 6 weekends | Create, cultivate, elevate.
The Porthmeor Programme Online is a unique opportunity to find and develop your individual creative voice over the course of 6 months. Making is at the heart of it. We combine professional guidance and support from 1-1 tutorials with our lead artists, with practical making workshops led by guest artists.
This year we will take just 12 students on our online programme and this small group size means a luxurious amount of tutor time alongside a close, supportive peer group.
Many students go on to exhibit together and establish valuable long term networks. This online version has evolved from our face to face model which we have paused on this year. We have run our face to face version now for 7 years, guiding over 100 students through our unique programme so far. We have used this experience to develop our new online version so you can benefit from this powerful motivating programme from your own home.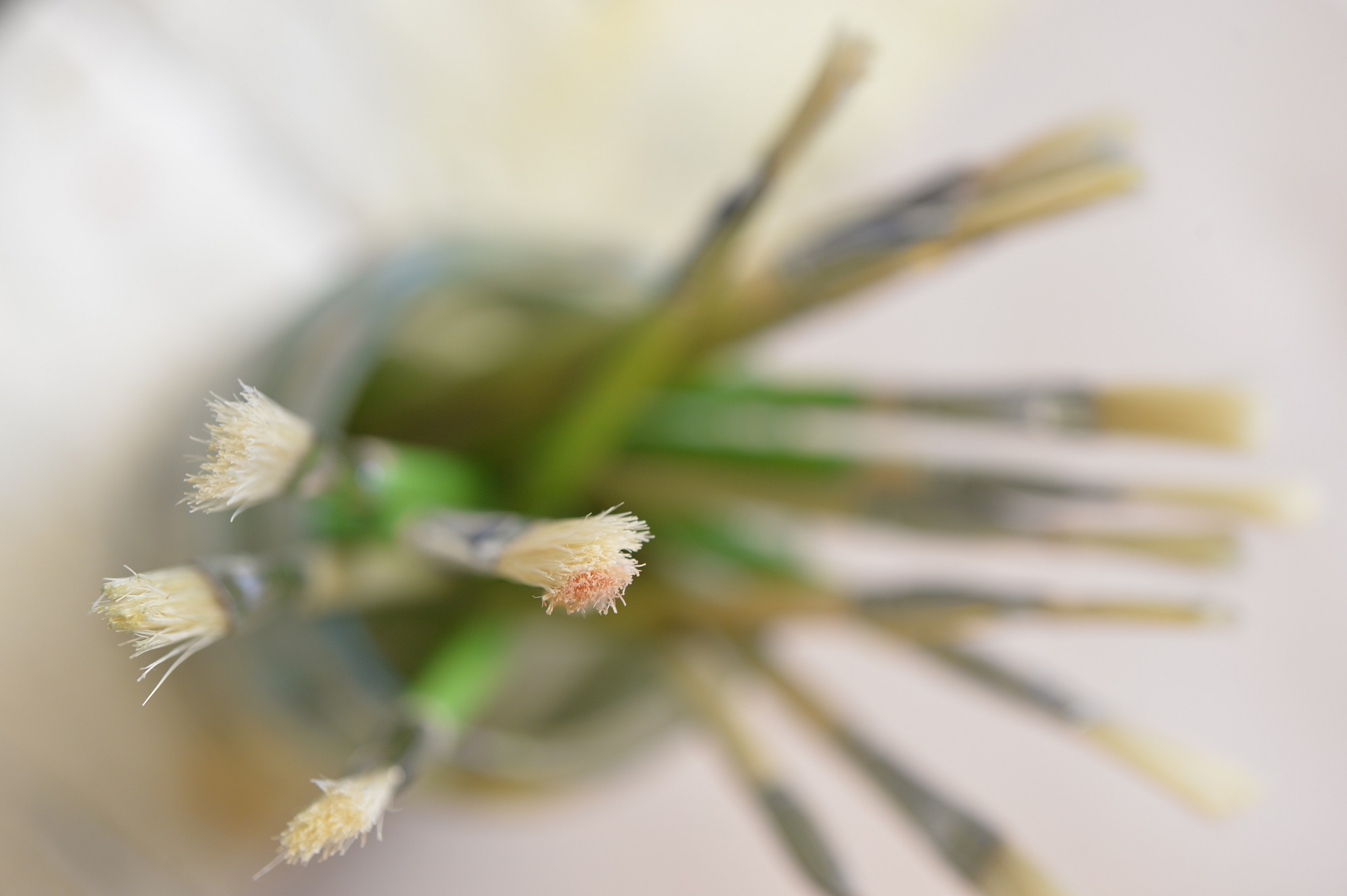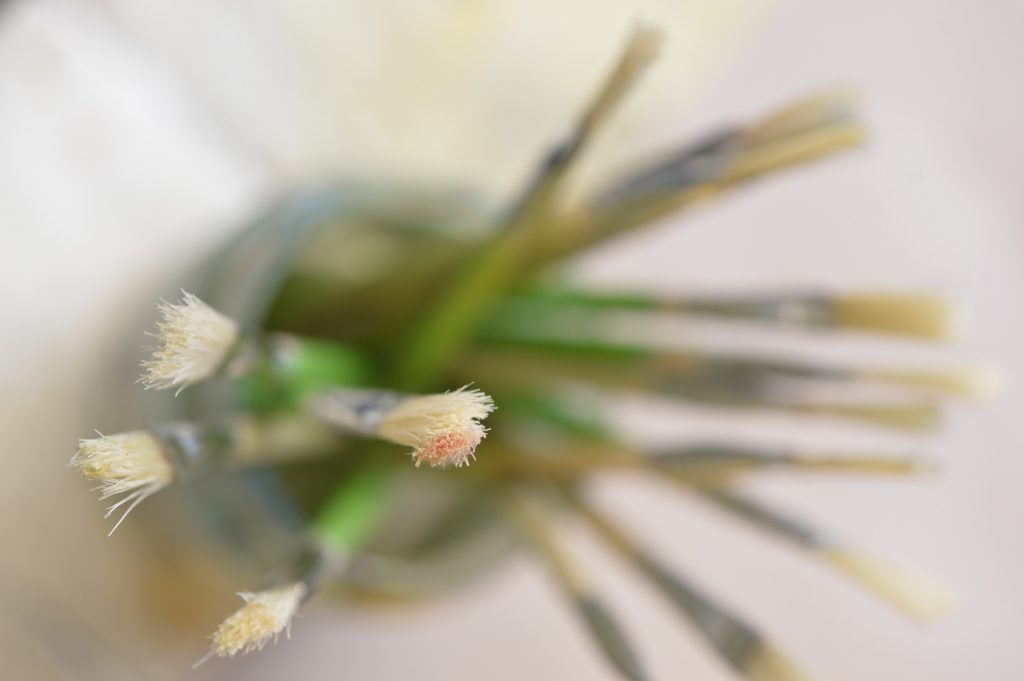 ---
What will I do in the sessions?
Workshops run over weekends. They always have a practical making element as we believe we learn best through making and doing although we also build in time to reflect, discuss and critique. Each session focusses on a key theme.
The Alchemy of Creative Practice
Discovering your voice through materials
Unlocking the key to motivation
Discovering your voice through nature
Abstraction, reduction, finding the essence
Next steps for your creative practice
The process will take you on a journey over the 6 months with the primary purpose of expanding your personal practice. Running through the programme is the development of your critical voice through personal projects, one to ones and group crits. You will learn to develop key 'creative muscles': risk taking and experimentation alongside the art of translation and interpretation.
Will I be taught new skills?
The sessions are varied, and most people will come across a new technique or nugget of information they will find valuable. However, the primary focus is not on developing your painting skills in these sessions. It is about discovery, taking risks and gaining insights.
We design the sessions to limber up your creative practice, to energize and to build the critical voice you need as an artist. We are happy to advise you on our shorter courses online and face to face that offer a range of practical skills development. To help you supplement the Programme with practical learning we off a 15% discount on all our online sessions.
How much contact time is there with tutors?
Every month there will be a weekend workshop, a small group follow on discussion and you will have a personal 1 to 1 tutorial.
We will also have an online platform for your group to discuss and share work on, offering peer support and encouragement. Your tutor will also interact between sessions here providing ongoing feedback and support.
What happens when the programme ends?
You will retain access to your group platform for 3 months after the programme ends including all the recordings of your live sessions. When the platform closes we will send you a PDF as a record of all its content.
You will also be eligible to join our long weekend studio sessions in St Ives exclusively for alumni who would like to touch base again and refresh. These sessions incorporate a practical workshop and individual tutorial sessions. After that we have several offers including artist retreats ranging from five days to a weekend.
Who is it for?
We cater for a range of students from early stage artists to those with more experience looking to challenge and stimulate their practice. We believe that developing a strong practice is where you start.
The focus is not on the secrets of getting gallery representation or making a living as artist or even how to improve your painting technique. It is about helping you become the artist you want to be. This is the first most critical and exciting step and we believe this is what we can help you with.
How is it structured?
Over 6 months, you will enjoy a mix of individual tutorials and guidance from our lead tutors, accompanied by a structured and varied creative programme taught by both lead and guest artists.
Live classes run via Zoom on Saturday and Sunday mornings each month with you working independently in the afternoons gaining feedback at the end of the day.
Working in two groups of 6, your lead tutor will follow up each class on the Monday to maximise your learning.
In addition, you will receive a 45 minute 1 to 1 tutorial on a Saturday morning between every session.
You will have the benefit of two lead tutors who will each give you a distinct perspective on your work. They will run the sessions together at the start and close, with Kate Southworth taking the first half of the programme, followed by Greg Humphries.
Guest artists Jill Eisele and Ilker Cinarel will also lead sessions.
Who else will be on the programme?
Every year is different. We have had new graduates to people who have retired and now have the space to devote to their creative practice. We have had textile artists to filmmakers, those with degrees and MAs to those who have developed their practice from doing short courses.
There will be a maximum of 12 spaces so the cohort will be small. Whatever age, background or experience you will all be there for the same aim of unlocking the artist you want to be. Your peers will often become a solid group of support that you can take with you far beyond the length of the programme. To ensure the programme is the right choice for you we recommend you give us a call to talk it through before booking your space.
How much does it cost?
£1,500 – Payable in 2 instalments if required just get in touch.
Book directly HERE

I feel more confident in my ideas and approaching work in a freer, more experimental way. I'm able to push through when the going gets touch. I spend less time worrying and more time painting.
This programme is a real tonic for artists, the playful approach and the serious are well balanced. It's great to have surprises and learn something new. I have felt nurtured and challenged throughout.

Jill Holland ( Completed our studio based version )
---
Dates 2021
Interactive workshop sessions will run over the following weekends, with a follow up discussion on Monday.
5 – 6 June 10 -11 July 7 – 8 August 11 – 12 Sept 9 – 10 Oct 6 – 7 Nov
Your 1-1 tutorial will be scheduled for a Saturday morning between sessions
---
We caught up with Porthmeor Programme 2018 alumni Sue Watt to get an insight into life before, during and after the programme. Sue lets us in on her daily routine, her artistic inspiration and her upcoming show at Penwith Gallery…
NB Sue attended before we had launched our online version but her experience gives you an insight into the ethos of the programme.
How would you describe your art practice?
Purposeful, honest and frequently all consuming.
What does your daily routine look like?
The awful teenagers leave at 8.30am and I work until 3pm most days. I also work for a few hours in the evening, normally killing anything good that I have done in the day. I don't have a routine as such, I just get lost in the work most days. If I stumble, I watch one of my little films and I'm off again…..
What do you enjoy doing outside of your art? How does that feed into your practice?
I am a primary carer for my disabled son Tom so I am either caring or creating. Both feed into each other. I need the high of creating to counteract some of the low of caring. Similarily, a lot of the caring involves quiet contemplative moments where I think about creating. I can't remember what I used to do before, but it couldn't have been important.
Who inspires you as an artist?
There are so many…. Sandra Blow for her absolute commitment, Danny Fox for his story telling, Peter Lanyon for his love of paint and finally but fundamentally, Liz Hough and Ilker Cinarel who showed me how to add purpose, meaning and substance to my work and ultimately, changed my life aswell as my practice.
Have you always been interested in art, or was it something you came to later in life?
I started life drawing 10 years ago, simply to find a room where I didn't have to talk about being a parent of a disabled child. I only started creating at this level once I had filled in my application for the PP2018 programme. I thought I wouldn't be chosen and decided that I needed to teach myself how to paint, I think it was my way of preparing for the disappointment. But as luck would have it……
What did you do before the Porthmeor Programme?
Caring for Tom and his brother and sister took up much of my time with ad hoc accountancy work and finally, the odd art class whenever I could fit it in. I had to give up my job when I had Tom which was miserable, as I was very career driven. This work ethic and stamina has filtered into my creating work and I now feel alive again.
What drew you to the programme?
It wasn't done lightly. I knew if I was successful that it would involve paying for carers, relying on family, etc… etc…. there were so many reasons not to do it but I was desperate for guidance and to meet other artists that were like me.
What would you say has changed for you since the programme?
Everything. I no longer want to produce meaningless, pretty work. The medium also doesn't matter to me anymore. I am showing you my life whether that is in paint, film, print, etc….. I am a fairly private person so am stunned when the abstracted shapes of a painting (after many layers), let you in.
What is your favourite memory of the programme?
I have painted my favourite memory in 'Don't open the window, Pat'. My fellow artist friend Pat would regularly hoist up the sash window in the back studio facing onto Porthmeor Beach. The resulting Atlantic gale would blow in and everything we were working on would take off, it was very funny – every time.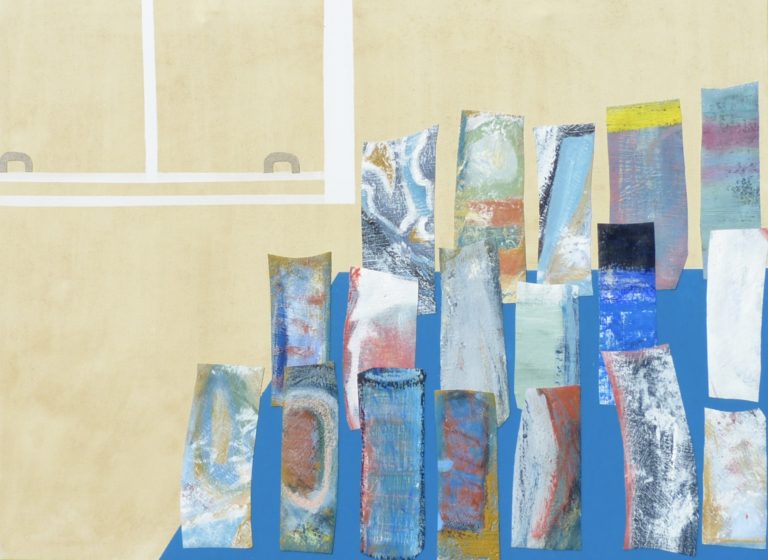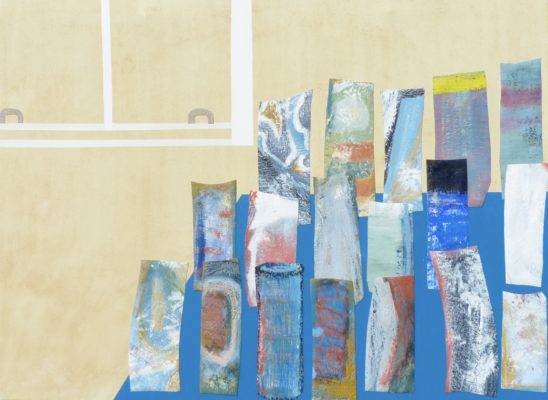 What advice would you give someone wondering whether to apply for the programme?
'If a job's worth doing, it's worth doing well'. If you are lucky enough to get the opportunity, then show your gratitude in your level of commitment. Above all, remain open minded.
What artistic achievement are you most proud of?
My care series which is a set of films and installations about my relationship with Tom and caring. I didn't realise that I was carrying these around in my head. They have given me great pleasure in their creation and I use the resulting shapes and forms in my paintings. The films have also given my family and friends a glimpse of Tom and I that I wouldn't have shown otherwise, this has unexpectedly led to a strengthening of my personal relationships.
Are you a full-time artist these days?
Yes, there isn't time for anything else. And we regularly run out of milk in my house.
How has your studio space evolved since being on the Porthmeor Programme?
I didn't have a space prior to the programme. Now, I have a studio next door to where I live for the daytime. At night, I work in the spare room next to Tom's room, so I can also help him if he needs it. He is regularly covered in blue paint.
Have you taken any more courses since the Porthmeor Programme?
No, I only want to work on my own ideas at the moment but I still go to life drawing most weeks. I also try and get to St Ives every few months to film and sketch. It is my place of respite and where I am at my most creative, with no distractions and demands from my life.
Can you tell us a little more about your upcoming show at the Penwith Gallery?
I will be showing work from my series 'Spinning on Porthmeor' which refers to a hand made spinning toy that we make for Tom, who enjoys autistic spinning. I have made representative structures of a spinner and filmed them on Porthmeor beach and will be exhibiting some of the resulting paintings, collage and film. The work helped me recognise that for Tom the spinning is also a form of communication with me, so it is personally very special and I hope to convey that in the work. The exhibition runs from the 6th of March – 6th of April 2020, PV 6th of March.
What does the future hold for your art?
I am fairly 'all or nothing' in my life. I hope to continue in 'all' for the remainder of it.
---
Your Lead Tutors
Kate Southworth
Kate Southworth makes paintings, drawings and rituals. Her work brings together an interest in new networked technologies and ancient wisdoms, alchemy and calendar customs.
In addition to solo and two-person shows, her work has appeared in more than 35 group exhibitions including Craftivism at Arnolfini, Bristol.
She has taught Fine Art, Curatorial Practice and Interactive Art at universities in Cornwall, London and Dublin. She has a practice-based PhD from the University of Leeds, an MSc in Multimedia Systems from London Guildhall University and a BA(Hons) in Fine Art from Manchester Polytechnic. She has given talks on contemporary art at many venues including Tate St Ives, Tate Britain and Tate Modern.
See more about Kate's work HERE
Greg Humphries
Greg has a varied studio practice. Starting out as a landscape painter he aims to connect people to their environment with art.
Through undertaking a masters degree in 2009 he realised the best way to connect people to their environment was to take them into that environment and get them to make the art! This is now the core of his personal practice and through his work he specialises in outdoor education and woodland management.
Greg has an MA in Fine Art from Falmouth University, PGCE qualification in Education, a BTEC diploma in Art and Design and even an honours degree in Engineering. He has worked at the Arnolfini Gallery in Bristol and is currently part of the Education team at the Tate and has held numerous residencies and exhibitions
See more about Greg's work HERE
Your Guest Tutors
Jill Eisele
Jill's practice begins with drawing, often taking me to wild and wonderful parts of Cornwall, capturing fleeting moments where light and colour create atmosphere and expression. These underpin her largely figurative paintings, which convey a sense of incompleteness; of place and mystery.
She has taught in the UK and the USA, and has painted and drawn for her entire adult life.
See more of Jill's work HERE
Ilker Cinarel
Ilker Cinarel is a Turkish-British who works individually and collaboratively across painting, sculpture, video, installation, spatial intervention, sound, text, performance and curatorial practice. His unique approach is to try to create individual, authentic voices in the curriculum within a conceptual and non conceptual framework.
His multifaceted practice incorporates artworks that embrace both contemporary and traditional processes, painting, drawing, sculpture, film, and performance with the juxtaposition of materials, forms and processes blurring past, present and future.
Previously a Creative Director for Vogue he teaches at both Falmouth and Plymouth University. Exhibitions include Inland Art Festival, Redruth UK, 2016; Newlyn Art Festival, Newlyn Art Gallery, 2015; Backlane West, Redruth, 2015; and Exchange Gallery, Penzance, 2015.