1945 -1960s | The "St Ives School"
Following the Second World War, the established group of painters, sculptors and potters in St Ives and their growing reputation attracted a succession of younger artists. This younger generation formed the new school of abstract artists for which St Ives would become famous and soon established the town as an important artistic centre for the avant-garde. Among the newcomers were: John Wells, Patrick Heron, Wilhelmina Barns-Graham, Terry Frost, Sven Berlin, Denis Mitchell, Roger Hilton, Karle Wesche, Paul Feiler, Bryan Wynter and Peter Lanyon – the only artist born locally.
In 1946, Lanyon, Wells and Berlin set up the Crypt group, in the process challenging the authority of the St Ives Society of Artists. This group of younger artists included Bryan Wynter and Guido Morris. Wilhelmina Barns-Graham, Kit Baker, David Haughton, Adrian Ryan and Patrick Heron also exhibited with the group. Some of the most progressive and experimental art in Britain at the time featured in these exhibitions, held in the crypt beneath the St Ives Society of Artists gallery in the Mariner's Church.
In 1949 seventeen artists, including Wilhelmina Barns-Graham, Barbara Hepworth, Ben Nicholson, and Peter Lanyon, resigned from the St Ives Society of Artists following a divide between the more progressive and the more conservative members. Three days later those that had resigned, among others, founded 'The Penwith Society of Artists in Cornwall', in memory of Borlase Smart who had died two years earlier. This new society embraced the modernists. Both societies still operate today.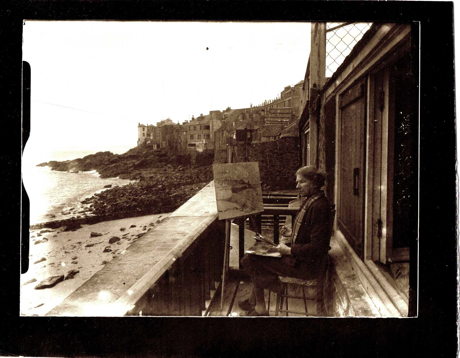 In the 1950s these artists associated with St Ives gained international recognition for their nature-based approach to abstraction. St Ives' status as a modern art centre grew and the British Council decided to promote St Ives internationally. In 1950 Hepworth represented Britain at the Venice Bienalle, followed by Nicholson in 1954. The presence of Frost, Lanyon, Heron and Wynter brought more artists to the town, including Karl Weshcke, Treveor Bell, Brian Wall and Sandra Blow. During this time artists of international renown, including Mark Rothko and Francis Bacon, continued to travel to St Ives.
Enticed by St Ives' Bohemian reputation, in the late 1950s and early 60s, a number of poets, designers and writers gravitated towards the area. During this time many artists took drugs as means to unleash their creativity and a heavy drinking culture evolved.
While St Ives' art became known as a European form of abstraction attached to nature, American abstract painting had started to dominate the international scene. Several St Ives artists made links with America, including Lanyon and Heron who both successfully exhibited in New York: Lanyon in 1957 and Heron in 1960. During this time the famous New York critic Clement Greenberg, who played a significant part in establishing abstract expressionism in the modern age, visited St Ives.
For many the deaths of three of the colonies foremost artists in 1975 are considered as the symbolic end of the 'St Ives School' era: the deaths of Wynter and Hilton were followed by Hepworth who died tragically in a fire at her studio in May. At this time abstraction was considered by critical opinion as a form weakened by references to nature, conflicting with the St Ives artists' attachment to nature and abstraction. The rise of Pop Art had also deflected critical attention away from the town.
The opening of Tate St Ives in June 1993, where the work of the artists of the 50s and 60s is continually exhibited in a series of changing shows, renewed interest in St Ives' artists' colony.
Widely considered to be one of themost important art centres in Britain after London, today artists, sculptors and craftspeople continue to be drawn to the magic of St Ives. The town has remained a home to a community of artists and the cobbled streets thrive with acclaimed galleries exhibiting an array of traditional and contemporary artwork, craft workshops and working artist's studios.