Course details
Explore the many benefits of using collage in your working process and learn how quickly it can bring a range of differing surfaces, colours, shapes and compositions into play in this hands-on, fast moving and exciting course.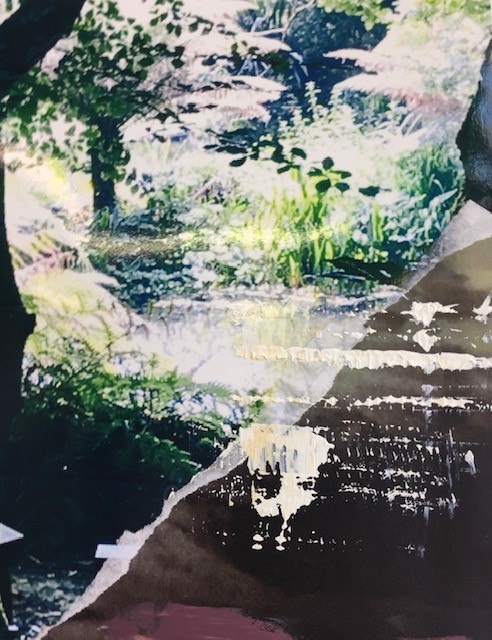 Benefit from the expert tuition of two St Ives tutors – Marion Taylor and Liz Luckwell – and join us for this exciting approach to exploring abstraction. Sitting somewhere between painting and sculpture, collage and montage offers a fresh approach to new processes of working.
First known as Papiers Collé (pasted paper), collage was introduced by the cubists in 1909. Picasso and Braque used found or collected items such as old prints, tickets, photos cigarette packets, pasted or pinned to their work. The use of collage, montage and assemblage fed into the vast array of materials and mediums used in contemporary art today.
See how artists both in St. Ives and further afield used collage and montage in their work. Peter Lanyon, Sandra Blow and William Scott as well as Matisse, Gerhard Richter and Robert Rauschenberg all used these techniques to great effect and will inform your learning over the four days.
After exploring this fascinating history, see how you can incorporate this versatile process into your own practice. Add texture and life to your compositions by working with different surfaces, colours, textures and shapes. Use this dynamic technique to develop your visual language. Advance or solve compositional dilemmas and see how various approaches to collage can transform your way of working.
What will I learn?
Learn quick ways to transform an image through collage and montage.
Build confidence in composition and expand your visual language.
Loosen your approach to image making.
Learn about a range of artists who use collage and montage in their practice.
Who would this course suit?
This course would suit artists at any stage in their creative journey; whether you have an established practice or are just starting out. Ideal if you are looking for ways to increase skills, experience and experimentation.
Taught by
I have enjoyed tutoring at the School of Painting, to all ages and abilities, for about 27 years. Teaching has always gone hand in hand with creating my own work, as I find sharing ideas and techniques stimulating and rewarding. My approach has been to give students the confidence to develop their skills, to think for themselves and so extend their visual language and find their own path.
Linking my method to the landscape, I take students on Porthmeor Beach to make experimental drawings in the sand, bringing them back to some of man's first marks and symbols. My teaching is grounded in an understanding for people and their desire to learn. I feel I have a genuine understanding of how nervous and apprehensive prospective students can sometimes be and am able to help them relax and enjoy being creative.
What to Bring
Our studios are fully equipped and we provide you with all the materials you need for your course. However, if you have a favourite set of brushes or any specialist materials that you would prefer to use, please bring them with you.
Timings and Breaks
The first day starts at 10am and finishes at 4.30pm, please aim to arrive ten to fifteen minutes before the start time.
All course days after that start at 9.30am and finish at 4pm and there will be an hour for lunch. There are plenty of nearby places to eat and we will serve tea and coffee at break times during the day.
FAQs
Our Courses
How can I get help in choosing a course?
Our friendly expert staff are always happy to discuss your needs and our courses in more detail to help you with your decision. Please call us on 01736 797180
How do I get my work home?
Tutors have special techniques for transporting oil paintings and the school has plastic folders available in our shop for £3.50 or do bring a portfolio.
For international students we are happy to arrange transportation of your work back home.
What do I need to bring?
Absolutely nothing! All materials and aprons are provided although some people do like to bring their own set of brushes.
What do I do for lunch?
Courses allow an hour's break for lunch and there are numerous places nearby or you are welcome to bring a packed lunch into the studio.
What times do courses run?
Most of our courses start at 10am and end at 4.30pm on the first day. Subsequent days we start at 9.30am ending at 4pm.
Weekend Courses run 10am – 4pm on the first day but the final day starts at 9.30 and ends at 3.30 with a short lunch break to enable people to get home that evening.
Do you have to be experienced to come to the School?
The School is a very friendly and welcoming place for all ages and experience. Our drop-in life classes and August half-day workshops are ideal for those wanting to have a go for the first time. Most of our longer courses are also fine for novices.
If any of the courses do need a bit of experience we flag this up in the brochure and on the website.
Booking a Course
Can I pay by cheque?
Please get in touch by phone and we can hold your place for a few days whilst you post your cheque (made payable to: St Ives School of Painting) to us at St Ives School of Painting, Porthmeor Studios. St Ives TR26 1NG
How can I reserve a place?
We will hold a provisional reservation for 24 hours if you give us a call whilst you find accommodation. Otherwise please book online or by telephone 01736 797180.
You can reserve a place with a £100 deposit; balance is due 12 weeks before course start date.
About St Ives
Where do I park?
The nearest long stay public car parks are the Island and Barnoon both 5 minute walk away. In the peak summer months it may be easier to park at the big top car park by the leisure centre and walk down into town. If you don't fancy the walk up the hill at the end of the day there is a shuttle bus which runs from outside the cinema.
How do I get there?
Public Transport: If you are coming from further afield the main train line runs into St Erth which is a 15 min taxi ride away or you can take the St Ives Bay Line which runs approx. every 30 minutes. The School is a 10 minute walk from St Ives station.
Driving: M5 will take you to Exeter where we recommend that you take the A30 across Bodmin Moor and into Cornwall. After passing Hayle, leave the A30 at St Erth roundabout for St Ives. Turn right at the second roundabout. This road will take you through Lelant and Carbis Bay into St Ives.
Where can I stay?
St Ives has a huge selection of hotels, guest houses and self catering accommodation to choose from. Please browse the art holidays St Ives section on our website and give us a call if you would like any help.